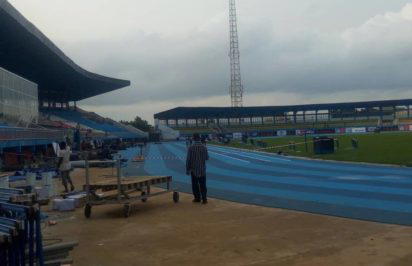 Stephen Keshi Stadium, Asaba,
Stephen Keshi Stadium, Asaba,
It has been disclosed that equipment for the flood lights and scoreboard of the Stephen Keshi Stadium will be installed in another 24 hours after failing to meet the opening day deadline.
It was gathered that for the three weeks the ship bearing the cargo containing the equipment was stranded on  high seas.
"The ship did not get clearance to berth and deliver the cargo. But as we speak the container is already in Asaba and ready for installation.  "The Delta State government has spent a lot of money to ensure that the championships run without any hitch. The equipment spent three weeks at the sea as the ship was waiting clearance to berth. By Wednesday the technicians already received them and we are hoping that within 24 hours we will have the score board and flood lights,"hinted a Delta state official here.