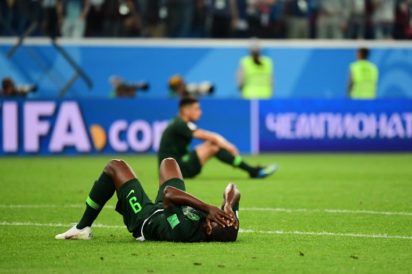 Nigeria's forward Odion Jude Ighalo reacts following his teams loss during the Russia 2018 World Cup Group D football match between Nigeria and Argentina at the Saint Petersburg Stadium in Saint Petersburg on June 26, 2018. / AFP PHOTO
Nigeria's forward Odion Jude Ighalo reacts following his teams loss during the Russia 2018 World Cup Group D football match between Nigeria and Argentina at the Saint Petersburg Stadium in Saint Petersburg on June 26, 2018. / AFP PHOTO
BY ISAAC OLAMIKAN
Apostle Tommy Yisa Aika, the General Overseer of the Glory Church of Christ in Egor, Edo State, has appealed to the acting President, Professor Yemi Osinbajo, to intervene in the leadership  crisis that is presently rocking the Nigeria Football Federation (NFF).
The septuagenarian stated that the wise intervention of the acting President would go a long way in ensuring that the country survives the hammer of the world football governing body, FIFA, which the crisis is on the verge of attracting and which will eventually ruin the future of the game in the country.
"The leadership crisis presently rocking the NFF is uncalled for and portends great danger for our progress in the round leather game. If the crisis is not resolved amicably we may suffer many  years of suspension by FIFA. The whole world is looking up to Nigeria to lead the way in Africa in the game of football by becoming the first country in the continent to lift the World Cup trophy," he asserted.