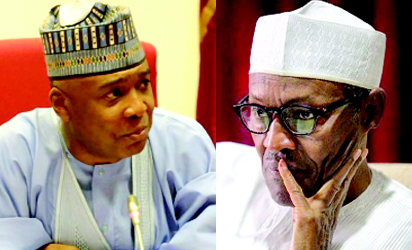 *Senate President Bukola Saraki and President Muhammadu Buhari
*Senate President Bukola Saraki and President Muhammadu Buhari
By Omeiza Ajayi
ABUJA_ In the aftermath of reports quoting Senate President Bukola Saraki as saying he was actively considering entering the 2019 presidential contest, a second republic lawmaker, Dr. Abdullah Umar Madidi has asked Dr Saraki to go into the contest, saying he possesses the needed mental stature and acumen to reunite Nigerians as well as make the country the envy of other nations .
The former Federal lawmaker said Dr Saraki has proven to be a leader with a huge grasp and knowledge of inherent issues in the Nigerian project, stating that he stands a better chance of defeating the incumbent, President Muhammadu Buhari.
"From his sojourn in the private sector, to his experience as a Commissioner and then Governor of Kwara State, till his becoming a two term senator and subsequently the Senate President, Bukola Saraki is in a world of his own and hence the most qualified at the moment to fly the opposition's flag in the Presidential election next year .
"He is also an easily saleable candidate as being a Northerner with a humongous and unprecedented support-base in the different parts of the country , there is no better candidate that can pull the magic wand needed to oust President Muhammadu Buhari's led APC government , from office", Dr Madidi submitted .
He said he was particularly in support of Saraki who can be likened to a political genius whose emergence from the North central geo-political region would be the binding new spirit and cohesion that was vitally needed by the nation at this crucial time .
The former lawmaker further described the Senate President as a square peg in a square hole, adding that he was optimistic that the Senate President's firm mastery of peaceful coexistence as was seen during his tenure in Kwara State and his vast relationships in and outside the country are all factors that would help get Nigeria removed from the present decayed and ineffective leadership of the present government.
"It is left for the PDP and other opposition parties to ensure that their ideal candidate is one with the capacity for service delivery. He must be a young man whose knack for enduring peace and harmony in the country is glaring for all to see. He must have a track record for dynamism , must be inclined to youths' welfare and take uncompromising stand in the protection of lives and property. He must hold life sacred and stamp his foot down on the rule of law, knowing these are guiding principles for growth and development of any nation . Happily, Dr Bukola Saraki is an embodiment of all these qualities and attributes of the leader Nigeria deserves", Dr Madidi declared.