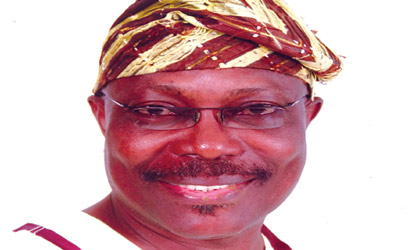 Salvador
Lagos – The Lagos State chapter of the All Progressives Congress (APC) has described Monday's defection of the state Chairman of the People's Democratic Party (PDP), Mr Moshood Salvador, as the end of the opposition party in the state.
Salvador announced his defection to the APC along with his supporters at his residence in Lagos.
He said he took the decision because all his efforts to reposition the PDP were frustrated by some elders of the party.
Salvador added that he was leaving PDP because the party abandoned him while he was being detained in connection with the murder of Mr Adeniyi Aborishade.
Recall that Salvador, alongside 10 others were charged with conspiracy and unlawful killing over the July 21 murder.
They were arraigned at a Yaba Chief Magistrates' Court and remanded in prison.
Aborishade, a PDP member, was murdered during the PDP's "visitation meeting" that held at Igbosuku Village, Eti-Osa LGA.
An Ikeja High Court, however, dismissed the murder charge filed against Salvador based on a Lagos Directorate of Public Prosecutions advice which exonerated him.
Salvador said he could no longer labour in vain in the party, hence his defection to APC with his supporters.
Reacting, Mr Abiodun Salami, Assistant Publicity Secretary of APC in the state, told NAN that APC's coffin had finally been nailed in the state.
He said that if the Chairman of the opposition could defect to the APC, it meant something was seriously wrong with the PDP in the state.
Salami described Salvador's action as a welcome development, saying the party was expecting more defections into the APC both at the state and national levels.
"We are happy with the defection of Salvador and others. It is good news to our party the APC and bad omen to PDP.
"If the Chairman of a party could move to another party, it means something is seriously wrong with the PDP.
"We have said it before that PDP is dead in Lagos, and this new development has finally nailed the coffin of the party in the state.
"The APC is the progressive party, it is the party to be. People are joining by the day, and we are expecting more defections both at the state and national levels in the coming weeks," he said.
Salami said the party would not discriminate against the defectors but would provide a level playing ground for them to realise their political goals. (NAN)