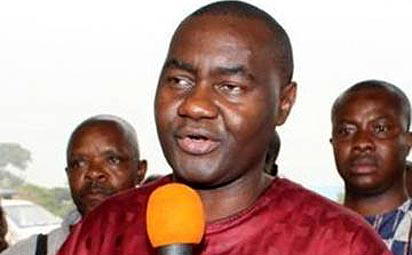 *Senator Abe
By Davies Iheamnachor, Port Harcourt
The crisis rocking the Rivers State Chapter of the All Progressives Congress, APC,  took another twist yesterday as the faction of the party loyal to Senator Magnus Abe, opened a parallel secretariat in the state.
Speaking, at the event to mark the official opening on the factional office, Abe, who is  a governorship aspirant of the APC for the 2019 election, stated that the essence of opening the office was for proper administration of the party in the state.
He noted that what the APC needed in the state was peace adding that attacks would not restore peace in the state.
Abe said: "This is a move about peace, it is a movement about growth and progress and we will not be provoked into shedding blood. I thank the youths for coming out en mass. I want to thank members of the State Executive Council, who have ensured that we gathered here today. The executives of the party that we have here were put together by all the groups in the party.
"It was put in place when the court gave an order that we should maintain status quo and voided the congresses at that time. In view of the legal tussle in our party, this is the only executive that does not have any legal or moral impediment.
"I want to associate myself with them and say that I support them. This is the only state secretariat where you must not engage in hate speech against anybody before you will be allowed to enter. As far as you believe in APC, as far as you believe in Buhari and you know that Adams Oshiomhole is our chairman, this office belongs to you."
Abe, who is representing Rivers South East at the National Assembly further said: "Time has come for us to make peace in our party. Peace is what we need to move the party forward. I must also say, that in the court of law, we cannot charge somebody for one offence and convict him for another offence. We were united in this party, we were together in this party and we were eating and drinking together in this party.
"What was the problem, a charge was made against some of us and that charge was that we were ambitious because we wanted to run for a position. They said we were disloyal because we did not stop when, "we were asked to stop". That was the charge against us. On this premise the party was balkanised, hatred was introduced and the party was almost destroyed because they said Abe and the others must leave the party because they said we were ambitious and disloyal.
"Today, that charge has collapsed in the court of public opinion. Instead of trying us with that  charge, they are now trying to convict us of charges that were never made against us. If you read the papers today, they say we are colluding with PDP and Governor Wike.