By Sam Eyoboka
AHEAD of the 66th annual convention, the Redeemed Christian Bible College, a manpower development unit of the church, held its annual International Conference on African Pentecostalism to address certain nagging issues affecting the growth of the church.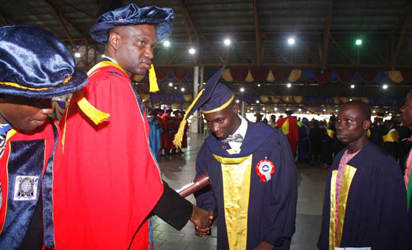 The theme of the annual 2-day event was: "African Pentecostalism: Probity and Acountability," where local and international experts drawn from various Department of Religious Studies, of various universities including Dr. Corey Williams, Prof. Umar Habila Daden Danfulani who took the keynote address.
The National Overseer of the Church, Pastor Joseph Obayemi said the essence of the conference is to advance the kingdom of God, to have indebt knowledge on evangelism because when you know the history of how things started, you can use that as a platform to develop the next level.
"So we are in the end time now. And then the academicians and the ministry are gathering together to brainstorm on how we can move and fast forward the kingdom of God on earth here. And that's the essence of the meeting," Pastor Obayemi stated.
Asked to explain why the focus was on probity and accountability, the National Overseer maintained that the church should be seen from the perspective of the founders of probity and accountability as Jesus Christ Himself demonstrated that at the story of the talent.
"When He gave the talent, He didn't leave the talent with them. He called the, for accountability and rewarded them accordingly. The nation of the world, especially our own country, need probity and accountability tone than ever before because the system from the lowest level to the top is so corrupted that it is high time that the church, when I mean the church I mean individual Christians, should stand for probity and accountability to change our nation and by extension change the whole world in righteousness and in holiness," he stated.
He therefore advised Christian leaders and even politicians to fear God, stresing "the fear of God is the beginning of wisdom. In every action, in every thinking, in everything they are doing, let them put God first and fear God. When they fear God, they will know every action has repercussion and God is watching."
Also responding, the Assistant General Overseer of the Church in charge of Administration/Personnel, Pastor Funso Odesola said the significance of the programme is the fact that "as this church progresses, as we drive the mandate of governing, God has to be overall, wholesome growth. Any growth that is not good for the body is abnormal.
"To have a wholesome growth, that is why this meeting is called, and also to be forward looking because the thinking that in the time to come, this church is taking over, they will form the core. In those days, there are theology, there are Pentecostalism and the face has changed. So we need to think ahead to be sure that when we get there at least we are doing what is right," he stated.
His message to Nigerian politicians, is very simple in the sense that every one who is in this faith based thing, "we are like a book, so your ways of life must be what people can emulate, because there is no secret anywhere, what people can relate with.
"And we know that dealing with people, being accountable to people and we must be seen to be faithful with what we are doing. When you talk about accountability and that probity is in four areas: money, sex, time and intellectuals.
"If you don't balance the four, because some people are very faithful in the area of money but intellectually bankrupt. The four has to work together. Some people are good in the area of money but they are sexually bankrupt. That's not good. Some people are good in theology but they are time bankrupt.
"So it has to be balanced to have balanced life and balanced organization. The law of gravity is applicable to anyone, in Nigeria and everywhere," Odesola added.
Earlier in his lecture, Prof. Danfulani said what informed the research is the quantum of publications by eminent professors and the market theories of releasing. It has been there for quite some time. It was started by Professor Adam Smith from the U.S sometime in the 1960's, and today you will not believe that even people in the department of economy are working on these market theories.
"Most of these theories talk about religion as commodity, religion as something that has financial worth. When you look at it from that perspective, you can easily be misled into thinking that religion is all about making money. Of course there's nothing wrong to make money, for example setting up a university, you don't get money from it, money keeps on going out.
"Whether you like it or not, whatever school fees you are charging at the end of the day is a lot of charity work, not to talk of taking care of orphans, widows, orphanages, IDPs, refugees and people in all sort of human situations, particularly when I'm making reference to poverty, and when we are talking about Africa and the root of Pentecostalism.
"Most of the Pentecostal churches, whether you are talking about RCCG or Winners, or Celestial, all of them started in ghettos and they have always maintained that relationship. When you look at the classical theories of religion, the classical theories of religion tries to dismiss religion by a thesis which says that with continuous advancement in science and technology, religion will die a natural death.
"One of them developed a theory of the infantile neurosis of religion ended by saying religion is not going to die but rather, religion like any other institution in the society, will continue to expand as long as it is performing the needed function in human society.
"At the University of Jos where I come from, Department of Religion and Philosophy, when we got this grant from this foundation in 2010 to do a research on Pentecostalism, it will actually interest you to know that all the names of the people that were on that particular grant were Hausa names; Professor Yusuf Taraki, Professor Musa Barnabas Yaya and myself.
"When we presented our report to the Pentecostal Fellowship of Nigeria in Nigeria, they asked if there were no Christians in the north which made Muslims to be the ones conducting this research, and then they were told two amongst us are reverend in ECWA, one is a preacher in a Pentecostal church. They were surprised. It is a discovery; empirical research.
"We are not talking about using qualitative, but actually we used quantitative research method to gather materials and we tested our instruments on how Pentecostals are Christians, why they became Pentecostals. We felt that what they would say is I went there to make money, I went there because I was poor or challenged, or I went there because I wanted God to answer my prayers.
"Firstly, on that scale of the reason; going into Pentecostalism is to encounter the Holy Spirit. My own question is this what money cannot give. When we started, all of us, we never knew that was going to be the outcome.
"In the 70s, people within the Awka axis which was referred to as the axis of poverty were converting because they wanted world power into education whereas power within the Onitsha axis which was referred to as the axis of wealth saw no reason to become Christians.
"Having gone through all these stories, if for example religion will die a natural death and everybody was giving his own reason and you discover people are in the church not even for all those things but for the Holy Spirit, then really one is excited.
"As a scholar and as a believer, I'm excited about it and I want to tell the whole world that the Holy Spirit has a role to play which was why I said there's nothing wrong about the market theory but who knows whether it was not the Holy Spirit that was working behind them," he stressed.
—