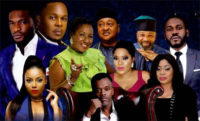 RGD Media Productions has announced its latest cinema project "Don´t get mad, get even". It is a film that will set milestones in film productions in Nigeria.
It cuts across all spheres of our daily lives realities, expectations and emotions. The movie is directed by Wale Ojo, one of Nigeria´s prolific actors, debuting as Director in his first Feature Film.
It features iconic and talented actors in Nigeria; big names such as, Femi Jacobs, Deyemi Okanlanwon, Kenneth Okolie, Toyin Abrahams, Patience Ozokwor, Jide
Kosoko, Wale Ojo, Nancy Isieme, Ayo Adesanya, Afeez Oyetoro, Jumoke George and a host of others.
The story is about 2 brothers, Jaiye and Juwon Kuti. Their relationship becomes estranged when the younger brother Juwon dropped out of school to pursue a music career. The elder brother Jaiye, went on to become a university professor. He broke all contacts with his junior brother, who he considers to be a bitter disappointment and an embarrassment.
Over the years and as a result of tough economic situations, Jaiye, the elder brother, had to move into the house of his younger brother, who has turned out to become a very successful music producer.
The comedy revolves around their conflicting lifestyles. Both brothers are complete opposites with nothing in common. Jaiye, the elder brother is an uptight, religious and cautious man, while Juwon is a very adventurous and an incorrigible casanova, who believes he is God´s special gift to all women until he met Ada.
According to the Executive Producer, Mr. Raphael Dedenuola, "Don´t get mad, get even" is an intriguing romantic comedy that is extremely hilarious and entertaining and will surely cheer you up even in difficult or stressful situations.
"This, in a country like Nigeria, where people are grappling with so much challenges and problems every day, comedy and humor is the best and only antidote."