•Explains why FG sometimes flouts court orders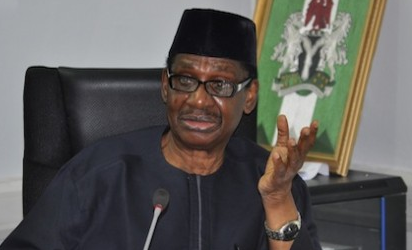 By Dapo Akinrefon
Professor Itse Sagay, SAN, is the Chairman of the Presidential Advisory Committee Against Corruption, PACAC. In this interview, he talks about the decision of eight lawmakers to serve impeachment notice on the governor of Benue State,   the action of the lawmakers in Imo State to impeach the deputy governor despite a court order, and the Senate recess as political immaturity. He, however, absolves the Federal Government's continued flouting of court order saying it was based on certain information at its disposal. 
Excerpts:
The Senate is on recess, do you think what has been done is lawful?
No, absolutely not right. It is more than not being right, it is even unconstitutional in the sense that it is a violation of the constitution; not for any technical provision of the constitution but because the constitution has an overriding provision that we must have elections every four years. Anybody who fails or deliberately refuses to provide funds for organising that election, is effectively trying to scuttle our democracy. What is happening now is an attack on the very existence of our democracy on that point alone. Apart from that, all the other points like things they are supposed to do, people they are supposed to have cleared and so on is not done, is also an act which is against the spirit of the constitution. They are given powers to allow them check what executive is putting forward but what they are doing now is to abuse it by refusing to look at it because of personal reasons of disagreement. Again, it is a gross abuse of their powers.
Eight members of the Benue State House of Assembly served impeachment notice on the state governor. Is that lawful?
It is blatanly illegal. To serve a notice of impeachment, you need one third majority of the assembly to do that. So, eight does not make one third. The process, infact, has ended from the beginning, they never got to the point they should have commenced.
So, the whole thing is an action in futility and is an illegal act; its is brigandage as far as I am concerned, and irresponsible of those who did it.
But do you agree that perhaps the President is involved in this or some people are using him as a cover to perpetuate the act?
Those who say things like that either obviously do not know the President or they are narrow-minded people who have no principle. The President is much more elevated in is thinking or orientation to engage in that type of thing. He would never do that; he is a man who does not only believe in the rule of law but believes in discipline and fairness. He is the father of the nation, and he sees the country as his responsibility. So, he can never descend to that level and anyone who suggests that is not only mischievous, but cruel and irresponsible.
But don't you think some people as using him to perpetrate illegalities?
No. They cannot use him as a cover. He can never provide cover for such thing. Some people may be doing these things because they think they can get away with it; he can never justify that in his attitude. I heard that policemen actually protected the eight lawmakers into the assembly, if that is so, then that is extremely wrong, that is an abuse of police power.
The Senat President has defected to the PDP but the APC is asking him to step down as Senate President, what is your take on it?
It is a matter of honour, it is not a matter of the constitution. If he has integrity, if he has honour, if he has decency, if he has self respect, he cannot continue to be Senate President. He got to that position because the APC has majority and he went as a member of the APC to the Senate.
Now that he has decamped from the APC, he should drop that position.   He will want to continue because he loves the power he is exhibiting. He was the leader of opposition of this government right from when he entered the Senate. He has been a leader of the opposition and not a leader of his party.
In fact, I expect him to use that position because he has been using that power to make this government uncomfortable.
Looking at what some have termed the legislative rascality of the legislature going on recess till September; eight lawmakers serving impeachment notice on the governor of Benue state. The decision of the lawmakers in Imo State to impeach the deputy governor despite a court order and the Federal Government's flouting of court orders. What signal is this sending to the international community?
I want to remove the Federal Government from this list.
Why?
Because they have certain information which we don't have. They have some critical information which informed their decision. Though it may be uncomfortable, for being portrayed as not obeying court orders, they are doing it in the overriding interest of this country. So, I don't include the Federal Government.
For the others you have mentioned, what it really shows is political immaturity and indiscipline. These are people who would do anything to satisfy their wishes, orgies and their interest at the expense of the country and at the expense of harmonious existence based on the rule of law.
In other words, they have not yet developed to the stage where they can hear what does not favour them because that is the right thing to do. If they are in a position to do the wrong thing to favour themselves, to break rules to favour themselves, they will do it.
For me, it is political immaturity, it means they have not yet developed to the stage of exercising the powers they are presently exercising.