By Marie-Therese Nanlong
Jos – A socio-political group, the Patriotic Northern Coalition for Justice, Peace and Equity has urged Members of the National Assembly especially its leadership not to do anything that will escalate political tension in the country and warned praise singers and sycophants to desist from leading the members astray with unnecessary sycophancy.
The group which is set to stage a rally in solidarity with the National Chairman of the All Progressives Congress, APC, Adams Oshiomhole for his approach and doggedness in stabilizing the Party also stated that it will honour Senator Goodswill Akpabio for his defection, noting that such move has exonerated the APC from being tagged, a northern Party.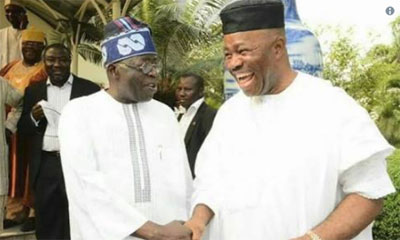 Speaking with journalists in Jos, the Coordinator of the group, Babangida Sule-Manchok, said as a ruling party, whatever affects the APC will have widespread impact on the entire nation, pointing out that it was imperative for the recent crises in the National Assembly to be tackled effectively, and of which Oshiomhole has begun on a sound note.
On Akpabio's defection, he said many high profile northern leaders and politician are members of the PDP, and that it was also necessary for high profile leaders and politicians from the South-South and South-East, especially, to join the APC in order to create balance in the polity and to propel democratic development.
According to him, "We commend the patriotic approach and doggedness of Comrade Adams Oshiomhole, the APC National Chairman, for trying to sanitize the entire system of Nigerian politics through his effective tactics in handling the affairs of the party since he took over, as well as his approach in resolving the recent crises in the party which he inherited.
"This is because as a ruling party, if there is any crisis rocking it, there would definitely be negative impact on the nation, directly or indirectly. And on the other hand, if there the party is crises-free and flourishing; it would have positive impact on the nation. That is why we appreciate Oshiomhole for restoring stability to the party.
"We as a coalition are therefore planning a massive rally in support of Oshiomhole across the north. We shall also be showing our love and support for President Muhammadu Buhari for his effective leadership, particularly his anti-corruption fight. The President has shown the political will to rid the nation of corruption and we urge him to continue. Again, we will show our support for Senator Godswill Akpabio for ensuring political balance through his recent defection from the PDP to APC.
"We are also calling on the Senate President, Bukola Saraki, not to do anything that will stir crises in the National Assembly, following the recent defections by law makers, including himself from APC to PDP. He should not allow praise singers and sycophants to lead him astray because the National Assembly is imperative in enhancing the nation's democracy. In all, we pray for free and fair general elections in 2019 and we will seriously campaign against electoral violence and political thuggery that might mar the elections."