By Ikechukwu Amaechi
When President Muhammadu Buhari pulled out his kinsman, Lawal Daura, from retirement on July 2, 2015, to replace Ita Ekpenyong as Director General of the Department of State Services (DSS), eyebrows were raised.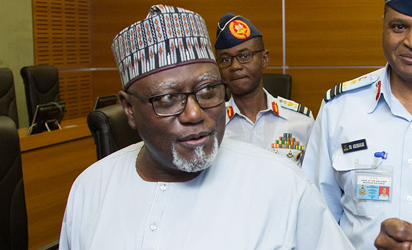 Daura's appointment two years after his 2013 retirement having attained the statutory age of 60 was one of the first the president made having eased out  about 40 top ranking DSS personnel.
To make way for Daura, careers of some of the finest and highly qualified officers were sacrificed on the altar of nepotism, an inclination that has defined the Buhari Presidency.
But being the president's kinsman is not necessarily the issue here. To squelch the career of high-flying operatives for a retiree, such a man must have some extraordinary competence: a genius of some sort.
It takes more than being the president's kinsman and confidant, who served on the All Progressives Congress (APC) security and intelligence committee during the 2015 elections, to fit that bill.
And Daura made that point so eloquently in three years. He would be remembered for turning the secret police into an organisation that became notorious for illegal arrests and detention of citizens, abuse of court orders, deep partisanship and human rights abuses.
Daura's "first cut
But for me, Daura's "first cut," to borrow the title of Cat Stevens 1967 song "is the deepest."
Only two weeks after his appointment, on September 11, 2015, to be precise, the appointments of 60 trainee officers out of 452 that belonged to Basic Course 28 of 2014 codenamed COBC28/2014 were terminated and the trainees thrown out of the State Services Academy (SSA) in Lagos.
Those dismissed had only one month of training to undergo before their commissioning as senior intelligence officers on October 26, 2015.
Those whose appointments were terminated had not only undergone the basic training in the academy but also the three-month attachment at DSS state commands nationwide where they learnt how to handle high calibre weapons, detonate bombs and all sorts of improvised explosive devices (IEDs).
Security experts from the British Secret Service were also hired by Nigeria to take them on special intelligence gathering courses in counter-terrorism and insurgency. They had been on this since December 2014 and many of them were already in celebratory mood, having only one month left.
Then, the shocker.
None of the trainees had an inkling what was in the offing. It was just like any other normal day in the camp until about noon when some officers (messengers of death) arrived from Abuja, called out their names and handed them their dismissal letters.
They were marched to their various rooms to pick their personal belongings and thrown out of the camp, under the rain, with the gate shut behind them.
Just like that!
Even the pictures they took with their colleagues while in training were seized. Their laptops and cellphones were thoroughly pored over. The victims were not told what the issues were. It was all about national security and the DSS did not owe them any apologies.
But one thing was certain. Many of those rusticated were not found wanting. They were not thrown out of the service because they performed below expectation in training.
In fact, some of those sacked had already been commended by their course advisors. They were some of the best trainees, already proficient in the use of sophisticated weapons.
The termination letter dated September 4 and signed by one GK Mohammed on behalf of Daura simply read: "I am directed to inform you that the Director General, State Services (DGSS) has approved the termination of your appointment from service with immediate effect.
"You are, however, required to hand over all government property in your possession, including your study guide/note books to the Director of Studies, State Services Academy (SSA), Lagos, and obtain appropriate clearance before your final exit please."
These were young men and women, Nigerian youths, who had looked forward to serving their country with all their God-given physical and mental abilities being treated so shabbily by a country that expected them to be patriotic.
No reason was given for the action. It was just Daura's way of announcing that a new kid was on the security block whose middle name was impunity.
To add insult to injury, the victims were demonised after they left camp because the instructors told those left behind that the rusticated trainees had fake certificates and gained admission through the back door.
But that was an after-thought because they had genuine and verifiable certificates.
In any case, shouldn't anyone who gained admission to any institution, particularly the country's foremost secret service, with fake credentials be punished beyond mere rustication?
The DSS was also being economical with the truth when it claimed that some of the trainees came through the back door (whatever that meant) because truth be told, none of them came through the front door, figuratively speaking.
The DSS does not advertise vacancies and the process of recruitment is always secretive.
The trainees were told it was "Executive Recruitment," and in one of the forms they filled to gain admission, they were asked to name their sponsors, the person through whom they came to the academy. You must have a godfather to be there.
If sponsorship was the crime committed by those sent parking, then all the 452 trainees were guilty. So, why were some kicked out and others allowed to stay?
Right neck of the woods
Most of those expelled were from the Southeast and South-south. Those from the right neck of the woods, who shared kindred spirit with the new sheriff in town, survived the first wave of "Hurricane Daura."
I wrote an article on this issue on October 4, 2015 titled, "The Vendetta in DSS," and my conclusion was simple:
"The flip side is that no country run on these paradigms ever achieves greatness. History is our witness."
I hate to say that I said it. But today, history is bearing witness.
Of course, Daura went from one act of impunity to the other until for him, the axiomatic chicken came home to roost on Tuesday, August 7, 2018, when he was kicked out of office ignominiously by the acting president, Professor Yemi Osinbajo, just as he booted out the 60 trainee-officers on September 11, 2015.
The only difference being that unlike the innocent trainees, he is alleged to have committed a crime against the Nigerian state tantamount to treason.
Daura's three-year stint as head of the DSS has become the country's diary of impunity. The invasion of the National Assembly by hooded DSS officers became the last straw.
Granted, the jury is still out on what really happened. Is it possible that Daura took a unilateral action, deploying armed secret policemen to lay siege on the National Assembly and preventing those that had legitimate business there from having access to what someone aptly described as the 'People's House'?
Or has the Almighty Daura, the hitherto untouchable muscle of the "Aso Rock cabal" become a fall guy, taking the rap for an operation that has gone insanely awry?
The answers are ensconced in the womb of time.
But what I find even more intriguing is the response of the APC to the tragi-comedy.
Act of brigandage and affront on sacred symbols
It is curious that a party which on Tuesday condemned "in strongest terms" the "unfortunate invasion of the National Assembly by security forces," which it rightly called an "act of brigandage and affront on the sacred symbols of our budding democracy," made a volte-face barely 24 hours later.
On Wednesday, APC claimed to have uncovered a "sinister plot hatched by the Senate President, Dr. Bukola Saraki, to foment violence in the legislative chamber all in a bid to stop his impeachment."
"We are now aware that the timely intervention of the security operatives forestalled the planned violence which could have led to possible deaths, injuries and destruction of property in the National Assembly on Tuesday," the ruling party said.
If this is true, it then means that Daura is a hero not a villain because his ability to think on his feet saved the day for Nigeria's democracy.
If he had not deployed masked operatives to the National Assembly, chances were that "Saraki's thugs" would have overrun the complex, and who knows what would have happened.
I would expect that having made this fantastic discovery, APC will ensure that Daura is reinstated and given national honours.
Anything short of that will negatively define the APC, just as impunity defined Daura.
Ikechukwu Amaechi is the MD/Editor-in-Chief, TheNiche on Sunday newspaper, Ikeja, Lagos.
Subscribe for latest Videos