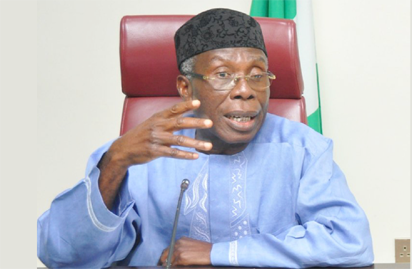 Chief Audu Ogbeh, Minister of Agriculture and Rural Development
By Cynthia Alo
THE Minister of Agriculture and Rural Development, Mr. Audu Ogbeh,  has expressed displeasure over the huge funds the country spent on importation of food, adding that efforts were ongoing to reverse the trend.
Ogbeh who spoke at the 19th edition of Catholic Brothers United in Lagos said that the annual food importation stood at $22 billion, lamenting that the situation was unsustainable as it poses danger to the nation's economy.
He said, "Nigeria spends almost $22 billion every year on food importation. If we don't fix agricultural problems in the country where families can feed on less than 15 percent of its budget, then the country is in trouble."
Ogbeh who spoke on the topic, "Technology and agricultural revolution: a tool for economic growth", said that efforts were ongoing to close border against rice importation, adding, "in two years from now, we should put an end to rice importation."
President of the Catholic Brothers United, Mr. Emmanuel Okoro, said that the country can attain self sufficiency in food production, if she strengthens her entire agricultural sector, adding that current challenges facing the sector include poor infrastructures, dormant research facilities, limited food processing and inconsistent government policies among others.