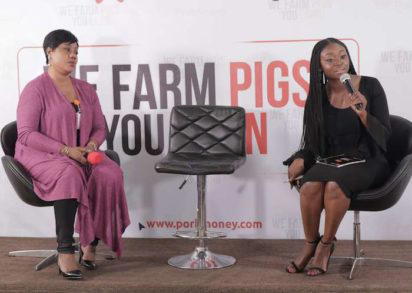 Chief Operating Officer, COO, Mrs. Linda Obi, and and Afua Osei, co-founder of 'She Leads Africa' during a masterclass, organised by Pork Money
Chief Operating Officer, COO, Mrs. Linda Obi, and and Afua Osei, co-founder of 'She Leads Africa' during a masterclass, organised by Pork Money
By Prince Okafor and Amaka Okpala
Fresh indications have emerged that Pork accounts for about $3 billion of consumption value in Nigeria and Ghana alone.
It was learned that 80 percent of the consumed pork was imported.
Pork is the cooking name for meat from a domestic pig. It is the most commonly consumed meat worldwide.
Speaking during an interactive section with youths, organised by PorkMoney in Lagos, the Chief Operating Officer, COO, PorkMoney, Mrs. Linda Obi, stated that, pig farming is the best livestock farming.
She said: "Not only is pig farming highly viable, profitable and sustainable. It is a treasure trove of opportunities and revenue given the diversity of its by-products ranging from revenue generation in the sale of the pigs to processing of its produce such as Pork Chops, Ham, Bacon, Sausages."
She stated that the company is planning on localising pig farming through partnership with individuals that comes onboard with certain amount in capital and they gets about 35 percent in revenue, after 11 contracting period.
She also noted that, the company is set to launch a pig processing plant in the country to produce variety of pork products for local consumption and exports
According to her, "Our objective is welcoming financial partnership from any interested persons around the world. Partners' funds sponsor the purchase and breeding of pigs till maturation. The pigs are then processed, packaged and sold after 11 months. Partners earn between 20-35 percent returns on their capitals based on plan of choice.
"By localising pig farming, we not only retain commerce power within Africa, we also provide exporting capabilities from the African continent. Not to mention the opportunities it avail local farmers, retailers and wholesalers in growing their businesses and remaining self-sufficient, as well as the countless job opportunities."
She noted that, the only challenge in running the business is the outbreak of the swine flu when pigs were dying anyhow, adding "That's why we went the extra mile in ensuring insurance for the live stock."
In addition, she stated that, ethical treatment of animals and the environment are things we the company care about.
"Which is why we have instituted a cruelty-free policy to ensure the pigs are cared for by globally acceptable standards, going by the construction of their pens, hygiene and general care, and by generating electricity from the pigs' wastes with the help of our bio-digester, we ensure our farms are self-sustaining with reduced pollution impact on the environment."