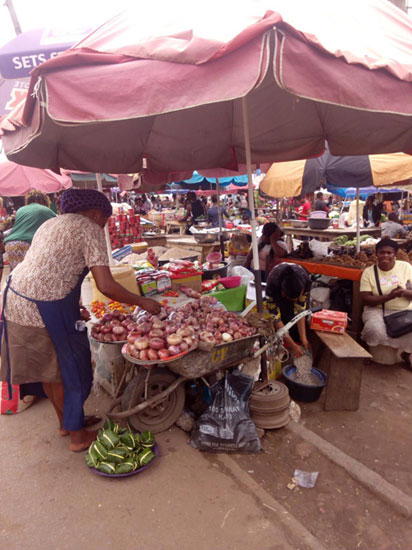 *Inside Ishi Gate Market, last Thursday
By Nkiruka Nnorom
National Association of Small and Medium Enterprises (NASME), NEPAD Business Group Nigeria, and other participants at the second roundtable of NASME, Lagos chapter, have called for more research funding to enhance the competitiveness of Micro Small and Medium Enterprises (MSMEs), noting that lack of relevant research system that aligns with their needs is one of the major challenges bedevilling the sector in Nigeria.
Mr. Solomon Aderoju, Chairman, Lagos branch of NASME; Mrs. Nike Akande, Chairperson, NEPAD Business Group Nigeria; Mrs Uzamat Akinbile-Yusuf, Commissioner for Wealth Creation and Employment, Lagos State; and Mrs Olayinka Oladunjoye, Commissioner of Commerce, Industry and Cooperatives, Lagos State, who represented Governor Akinwunmi Ambode, stressed the need to ensure that research process is aligned to specific needs and local demands of MSMEs as well as apply advanced science and technology to enhance innovation and creativity of the sector.
They also said that special funds for the development of MSMEs should be set aside; while proper awareness should be created on the availability of such funds to enable prospective creditors take full advantage of the funds.
In a communiqué issued at the end of the event, participants recommended gradual and systematic reduction of multiple taxation which they identified as bane of competitiveness of MSMEs; urgent resuscitation of MSMEs policy requiring Small and Medium Enterprises Development Agency of Nigeria (SMEDAN) to generate data on the number of MSMEs every three years.  They also recommended that tax policy system and process should factor in Targeted Tax breaks, targeted subsidies aimed at specific forms of businesses or entrepreneurs and the provision of the requisite infrastructure needed for MSMEs to thrive and be globally competitive.
Other recommendations include recognising the need of MSMEs for unfettered access to adequate capital markets to provide the greatest opportunities for entrepreneurial expansion.