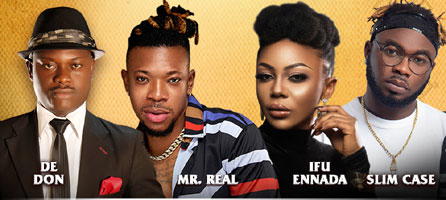 Legend Extra Stout's flagship consumer engagement platform, Real Deal Experience is set for the fifth leg of its 2018 pan Nigerian tour. This is coming after the success of previous editions which held across major cities in Nigeria. This edition will hold on the 25th of August at Abesan mini stadium, Abesan Estate, Ipaja.
The show is set to feature two rave-of the-moment artistes, Uchenna Okafor, also known as 'Mr. Real', and Oluwafemi Oladapo Oko-Eko, most commonly known by his stage name – Slimcase.
Mr Real, is popular for his 2017 hit, `Legbegbe,' while Slimcase is known for his street-hop single,"Shepeteri". Both artistes are pioneer promoters of rave of the moment dance style `Shaku Shaku,'. They are the new voice of the street and are also ready to bring their magic to the Real Deal Experience stage to treat fans and lovers of the brand to great performances.
Speaking ahead of the show, a visibly excited Slimcase said " I can't wait to see my people in Ipaja. Lagos is home for me and bringing my fans here to the Real Deal Experience will be very special. We'll be dancing shaku shaku into the morning courtesy of Legend".
The show will be hosted by comedian Iruvwe Okeremute also known as De Don alongside former Big-Brother Naija housemate Iheme Faith Uloma, (Ifu Ennada). The outspoken diva has previously been very expressive about her love for the brand and will be bringing her wit and excitement when she graces the stage.
Real Deal Experience is one of Legend's ways of interacting and giving back to its esteemed consumers and to also connect with its growing market. The brand has already taken the show to major Nigerian cities this year. Headlined by Harrysong, the experience tour began at the coal city of Enugu in February, it also featured top performances from Nigeria's leading acts in the entertainment industry.
The next stop for Real Deal Experience took place in Aba for the April edition and this featured Abia born rap artiste, Ukeje Okechukwu Edwards popularly known as Mr. Raw. In June, the show continued its hot streak and touched down in Port Harcourt as the Ogbiligbo brothers, a duo of highlife singers popular in Nigeria's South East, were headline performers.
The show also features rib cracking comedy, role play, eulogy, some education about what Legend Extra Stout means as a brand, and many more exciting games.
Another major attraction of the show is the Taste, Tell and Win Competition, whereby the taste buds of Legend's faithful consumers will be put to the test when they are asked to blindly taste several unidentified stout drinks and tell which of them is Legend Extra Stout. It is the ultimate loyalty test for consumers who recognize the rich taste of Legend Extra Stout. Winners from this competition get to win exciting prizes like refrigerators, generators and many more
Speaking on the importance of the Real Deal Experience to Legend's faithful customers, Portfolio Manager – Mainstream Lager & Stout Brands NBPlc, Emmanuel Agu said: "We recognise how important entertainment is to our consumers. The Real Deal Experience is our way of going the extra mile in providing top notch entertainment experiences for our consumers across the country".
Legend Extra Stout is a unique bitter tasting premium stout, fully brewed from the finest ingredients and bottled under the highest quality standards. The stout, which was launched into the Nigerian market in 1992, was named Legend because it suggests solid reputation and authenticity.