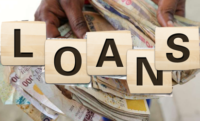 loans.png
By Elizabeth Adegbesan
Banks are now to give credit to the manufacturing and agricultural sectors at fixed interest rate which will run for a period of seven years.
This was part of the agreement reached at the Bankers Committee meeting held in Lagos yesterday.
Director of Banking Supervision,  Central Bank of Nigeria (CBN), Mr.  Ahmed Abdullahi, said the objective is to stimulate job creation and while moderating interest rates downwards.
He stated: "Although agric and manufacturing are the initial sectors that are being considered, later on a bank can apply if there is a job creating sector that the bank is operating in, and it may be considered.
"The idea is that we can refund the Cash Reserve Ratio (CRR) of a bank that has engaged in lending in a new project or an existing one in the agriculture or manufacturing sector as a way of utilising the CRR.
"So anytime a bank lends to manufacturing or agric at the rate the CBN has prescribed, it would have its CRR refunded up to the amount it has lent. The guidelines are coming up any moment from now, and once it is out the policy will take off.
"It is in two folds, there would be CPs (Commercial Papers) and corporate bonds; on the other hand, there would be direct lending to the banks and SMEs that are in those sectors."
In his remark, Managing Director of Guaranty Trust Bank Plc, Mr.Segun Agbaje, said: "On the part of banks, CBN has been very gracious to these sectors, saying if you have companies that are doing new capital expenditures and expansions to factories, you would be able to lend using some of your CRR at nine percent. These are not short term loans; they are long term loans of seven years, and two year moratorium on principal."
According to him, access to credit on fixed interest rate by manufacturing and agricultural sectors would ease their fear for all kinds of risks
"It would probably be the first time in the history of this country where manufacturers would be able to take fixed interest rate loans for seven years which means they would be able to plan. The volatility that they fear, and all kinds of risks would be taken out and I think these are very laudable steps in improving and growing the economy".
Also speaking on this development, Executive Director, Finance, First City Monument Bank (FCMB), Mrs. Yemisi Edun, stated: "The CRR that is taken from banks would be positively deployed to grow the real sector as well as the agriculture sector. This is very positive for the economy and also positive for banks because we would be able to access these funds and earn on it. And because it would be coming at single digit, it would be positive for the economy."
loans.png