By Godwin Oritse   
The Lagos Chamber of Commerce and Industry (LCCI) says the 13 per cent revenue derivations principle applied to oil producing areas should be extended to states hosting the nation's ports.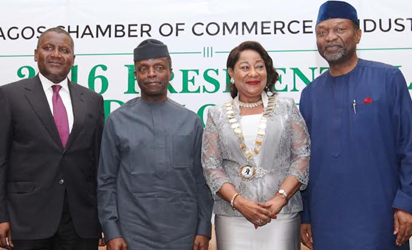 The President of LCCI, Mr Babatunde Ruwase, made the suggestion at a news conference on the state of the economy in Lagos.
Ruwase said that ports activities created profound negative environment to host states and exert tremendous pressure on the states' facilities, which significantly affects roads, health facilities, traffic, environmental management and pollution.
"These are costs that are borne by the states in which the ports are located and offers basis to argue that derivation principles should be applied to revenue generated through customs' duties from the ports," he said.
Ruwase said that the basis for derivation principles to oil producing areas was the negative externalities of oil production.
"The same logic should apply to Lagos State that suffers tremendous negative externalities because it is hosting the busiest ports in the country," he said.
Ruwase said that it was imperative for derivation principle to be applied to Customs Duty and Value Added Tax (VAT) in the spirit of equity.
According to him, it allows states to provide facilities and infrastructure to support economic activities.
He said there was increasing complaint by exporters regarding difficulties in exporting goods from Nigeria to other West African countries.
This, Ruwase said, was due to the bureaucratic bottlenecks of registration of products under the ECOWAS Trade Liberalisation Scheme (ETLS).
The ETLS was currently managed by the Ministry of Foreign Affairs.
"We believe that the administration of ETLS should be moved from Ministry of Foreign Affairs to the Ministry of Industry, Trade and Investment, specifically the Nigeria Investment Promotion Commission (NIPC)," Ruwase said.
He said that it would improve the administration of ETLS and serve exporters better.