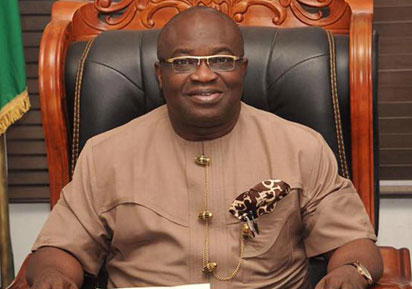 Governor Ikpeazu
Governor Ikpeazu
UMUAHIA—ABIA State Governor, Dr Okezie Ikpeazu, has described the late Premier of the Eastern Region, Dr Micheal Okpara as one of those who inspired him to leadership.
Ikpeazu who spoke during a visit to the Afougiri Ohuhu Umuahia home of the late premier and one of the founding fathers of Abia State described him as the best visionary ever in Nigeria.
Speaking after he laid a wreath at the tomb of Dr Okpara, Governor Ikpeazu said: "The hallmark of a great and visionary leader is that generations after him enjoy his achievements and personally. His brand of leadership inspired me. He left great legacies and those of us after him can only be inspired to work harder in honour of his memory."
Chief Uzodinma Okpara who led his mother, Mrs Adanma Enyidiya Okpara, and other family members to welcome the governor, assured him of the support of the family and Ohuhu people to his government.
He applauded the development strides of the governor including the planting of over two million tenera specie palm trees within three years of his administration and called on him never to relent or be distracted by the antics of his political opponents.
The Ohuhu clan of Umuahia, who were celebrating their New Yam Festival, later adopted Governor Ikpeazu as their sole candidate for 2019 governorship election after a motion to that effect was moved by Ambassador Okpara, seconded by Ambassador Empire Kanu and the people concurred via a voice vote.
Governor Ikpeazu was later conferred with the chieftaincy title of "Dike Oha of Ohuhu," by traditional rulers of the clan led by Eze Emeka Obum.