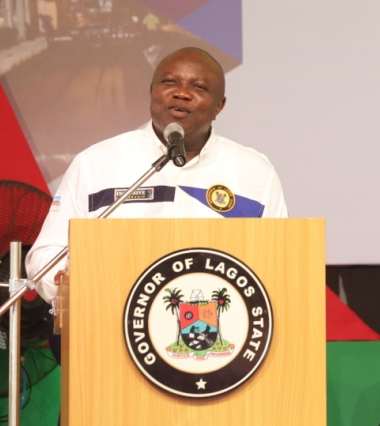 Lagos State Governor, Mr. Akinwunmi Ambode, addressing residents, traditional rulers, party chieftains and other dignitaries while Deputy Governor,
…It shows FG's years of neglect— LASG
By Monsuru Olowoopejo, with agency report
THE Economist Intelligence Unit, EIU, has ranked Lagos State as the third worst city to live in among 140 cities worldwide.
Lagos was ranked 138th of the 140 countries ranked by the EIU in its 2018 report.
With a relatively low score of 38.5 percent, the city was just a little above Syria's war-torn capital, Damascus, and Bangladesh's Dhaka.
Both cities are hotbeds of violence, destruction and war.
But in a swift reaction, the Lagos State government said the report has shown years of neglect and denial by the Federal Government.
The Commissioner for Information and Strategy, Mr. Kehinde Bamigbetan, in a short message, SMS, sent to our correspondent, said: "If you read the report, it stated that the years of neglect and denial by the Federal Government has led to the poor state of infrastructure in Lagos State.
"The report commended Ambode administration for working tirelessly within three years to improve the level of infrastructure across the state.
The new ranking saw the Australian capital, Melbourne, lose the title of world's most liveable city after a seven-year reign after dropping to second by just 0.7 percent. The city was piped to the post by Vienna, which received an overall score of 99.1 percent.
In 2017, Lagos was ranked the second worst city to live in after Damascus.
According to the EIU, Austria's capital's rise to the top was attributed to increased security scores due to a return to relative stability across much of Europe after high-profile terrorist attacks in recent years.
The annual list assesses stability, healthcare, culture and environment, education and infrastructure in 140 different cities of the world.
On a larger scale, the ranking showed, global liveability has improved for the second year in a row, increasing from 74.8 per cent last year to 75.7 per cent in 2018.
In the new ranking, published Monday, Japan's Osaka and Tokyo have now moved up into the top 10, coming in third and seventh place respectively.
The report reads in part: "Osaka stands out especially, having climbed six positions, to third place, over the past six months, closing the gap with Melbourne.
"It is now separated from the former top-ranked city by a mere 0.7 of a percentage point. Osaka's improvements in scores for quality and availability of public transportation, as well as a consistent decline in crime rates, have contributed to higher ratings in the infrastructure and stability categories respectively."
Hamburg and Helsinki, that held tenth and ninth place last year, have dropped out of the top ten, while this year's ninth-place spot went to Copenhagen, which achieved a score of 96.8 per cent.
Canada, Toronto, Calgary and Vancouver also performed relatively well, the report said.
The report noted that global business centres tend to be victims of their own success because the 'big city' buzz they enjoy could overstretch infrastructure and cause higher crime rates.
It noted that New York (57th), London (48th) and Paris (19th), for instance, are all prestigious hubs with numerous recreational activities but they all suffer from higher levels of crime, congestion and public transport problems.
The report showed without much surprise that Syria's war-torn capital, Damascus, continues to languish at the bottom of the list, with an overall score of 30.7 per cent.
It was followed by Bangladesh's Dhaka and Lagos, Nigeria's commercial centre.
In 2017, Lagos was ranked the second worst city to live in after Damascus.