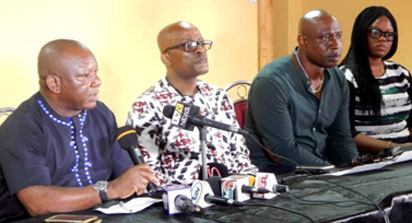 The Lagos Media Marathon will make its first outing tentatively in the first week of December, and the the Nigeria Union of Journalists Lagos chapter is hoping that media practitioners will turn up in their numbers to participate.
According to the chairman Lagos Media Marathon Committee Mr. Tony Ubani, the marathon is meant to boost fitness and friendship amongst members of the pen fraternity.
"Journalists need exercise and its not like the press-ups we do in our homes and we think that its enough. We are looking at having the race quarterly.
"Further more we are also thinking about bring out the best of Lagos journalists, the old timers they should come and and at least walk the distance," Ubani said.
Speaking at the press briefing yesterday, Lagos State Sports Commission chairman, Kweku Tandoh stated that Lagos was glad to be associated with the Lagos Media Marathon.
"It our pleasure to be part of this novel idea. It is something that is in line with Lagos State's vision we have for marathon.
"Marathon is a culture we want to imbibe. In Lagos, we already have many marathon races. As time goes we also going to have sectoral marathons just we having now for the media."
The race is a 10km race that will start at Charlie Boy Bus Stop in Gbagade and terminate at the newly commissioned Bus Terminal at Ikeja. It is open to all interested participants and there are prize monies for the both male and female runners.