Late senator John McCain will lie in state at the US Capitol in Washington on Friday, followed by a memorial service at the National Cathedral before being laid to rest at the US Naval Academy in nearby Annapolis on September 2, his office said.
Ahead of the national ceremonies, McCain will lie in state at the Arizona State Capitol Rotunda on Wednesday and a memorial service will take place at the North Phoenix Baptist Church.
Five major dates in the life of John McCain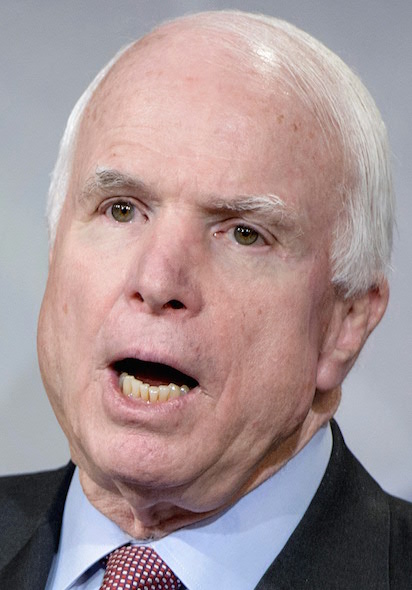 Here are five key dates in the life of the iconic Navy pilot-turned-politician, US Senator John McCain, who died Saturday at age 81, spent 35 years in politics after a military career interrupted by his Hanoi confinement during the war in Vietnam.
August 29, 1936: John Sidney McCain III is born in the Panama Canal Zone. With his father a US Navy submarine commander and his grandfather an admiral, McCain follows their footsteps into a military career. He graduates from the US Naval Academy in Annapolis, and becomes a fighter pilot.
October 26, 1967: McCain's A-4E Skyhawk is shot down over Hanoi by a surface-to-air missile. He ejects and is taken prisoner. Fractures in both his arms and right leg are poorly treated, and McCain — whose father has risen to become commander of all US forces in the Pacific, including Vietnam — is beaten and tortured throughout his detention. He is released on March 15, 1973, at the end of US involvement in the war.
November 2, 1982: Upon leaving the military, McCain, recently remarried after divorcing his first wife, is elected to an Arizona seat in the US House of Representatives. Four years later he is elected to the Senate, where he was re-elected five times and serviced until his death, although his final months were spent away from the Senate floor as he underwent treatment for brain cancer in his home state of Arizona. His term would have ended in January 2022.
September 4, 2008: Eight years after a stinging defeat in the 2000 Republican presidential primaries to George W. Bush, John McCain formally becomes the party's White House nominee against Democrat Barack Obama. He chooses a virtually unknown governor as his running mate: Alaska's Sarah Palin. The Republicans are defeated in November.
July 28, 2017: At around 1:30 am, John McCain enters the Senate chamber and, with a dramatic thumbs down gesture, casts the deciding vote against the partial repeal of the Obamacare health law, torpedoing one of Trump's central campaign promises. The American president is livid.