By Emma Amaize, Regional Editor, South-South
FORMER  Governor of Delta State, Chief James Ibori, the incumbent governor, Senator Ifeanyi Okowa, Senator representing Delta North and former Chairman, Peoples Democratic Party, PDP, Chief Peter Nwaoboshi, Senator Ighoyota Amori, Chief Strategist to the Delta State Government, Chief Paulinus Akpeki and other PDP leaders in the state, especially members of the Ibori political family, have unanimously asked the former governor of the state, Dr. Emmanuel Uduaghan, to stop his supposed arrangement to leave the party for the All Progressives Congress, APC.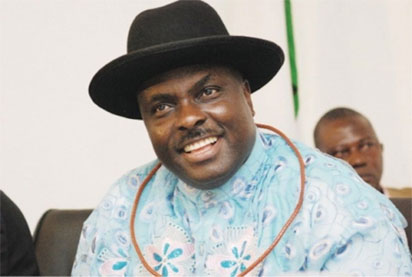 Celebration stopped midstream   APC, which recently snatched the ex governor of Akwa Ibom state and former Senate Minority Leader, Godswill Akpabio, from the PDP, was already clinking glasses in advance for Uduaghan's entry into the party when Ibori, Governor Okowa and party chieftains in the state moved in to terminate the festivity.
An APC leader, who spoke to Saturday Vanguard, about four weeks ago,   asserted: "It is a foregone conclusion, I can tell you that it is just   matter of days,   Uduaghan is with us. Our Delta South senatorial ticket is for him. We have also restored his security paraphernalia, which   they withdrew from him. He is coming from the national, not state level, so I do not think there is anything that can stop him."
"Since they are maltreating him in the party he joined to build, we know the havoc he can do to them if he is on our side and APC wants to take over Delta state. With him, we would know how to chase out PDP; after all, he won election two times as governor of the state. He knows the ins and outs, you cannot tell me that with somebody like him, we cannot win Delta," he ecstatically said
Contacted after what seemed to be a confirmation from Uduaghan in a national newspaper on Thursday, that Ibori and Okowa were holding him back in PDP, the APC chieftain said: "I am surprised because Uduaghan was practically in APC, he has played high-profile roles in the party already. I cannot explain how PDP snatched him back from us. It is going to affect our plan in Delta. But I do not want to believe that it is over yet. The APC is going to reach out to him."
Cause of disagreement
Sources familiar with the issues that nearly threw spanner in the work, hinted that Uduaghan was basically gnashing his teeth over the mind-set of his successor, Okowa, towards him since he handed over to him in 2015, largely on the subject of his political ambition and necessary entitlements.
It was gathered that Okowa was still bitter with Uduaghan over his choice for a different candidate in the primaries that he (Okowa) finally won. Despite Uduaghan's latter support for him, he did not bother to accept his handover notes and there was a cold war between them for nearly two years. "Uduaghan threw everything in for Okowa to win but Okowa was still bitter that Uduaghan did not support him before the primaries.
Uduaghan was financially emasculated as his entitlements were not paid and he was basically reduced to a minion in the new dispensation under Okowa, where he could not even hold sway in his local government area, Warri North, let alone get the governor's ears for his senatorial ambition.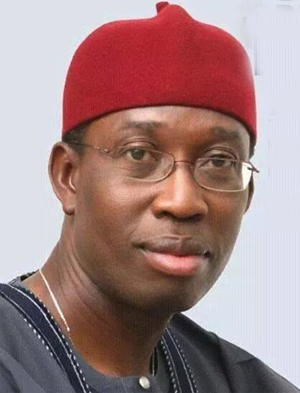 Alarm bell
A reliable source informed Saturday Vanguard that Uduaghan was for the most part disregarded by Okowa, who felt that he was also maltreated by the former. Evidently pushed to the wall, the former governor decided open his doors to APC and go for the kill against the PDP in the state.
At first, PDP leaders in the state thought it was a shaggy dog chronicle until Chief Ibori got hint of the political masterstrokes that would have been deployed against the PDP. In fact, some APC leaders, who Uduaghan fine-tuned his exit strategies with thought Ibori was coming with him too.
The elaborate plan by Uduaghan jolted Ibori, who, all the while, just thought that the animosity between Uduaghan and Okowa would soon fizzle out.
In the words of a top PDP chieftain: "It was then that he (Ibori) woke up from his slumber and decided to call Okowa to order before things would go out of hand."
It was like a battle cry, as those who matter in Delta PDP, knowing what it would result to if Uduaghan dumped the party were enlisted to stop him at all cost.   His phones continued buzzing until the time they were sure he had simmered down.
Flurry of meetings: Ibori summons Uduaghan, Okowa
Reports said that Ibori convened series of meetings between him, Uduaghan and Okowa, while Okowa and Uduaghan also held a private meeting. The Ibori political family also met over the matter severally.
Meetings were held at Oghara, Asaba, Lagos and other places in the country with a caveat that Uduaghan must not be allowed to go. But some of the intercessors also took side with Okowa, saying that he was only paying Uduaghan back in his own coin.
However, the former governor, who evidently managed more elections than many of his peers during his time and was tagged an election expert by APC at a time, was so furious in one of the meetings that he warned that it was unwise to undermine anybody's capacity to wreak havoc to the PDP, alter and mutilate the political picture in the state.
"That was when they saw that he meant business and they started begging one to reconsider his stand," our dependable source added.
Overwhelming pressure
His words: "What I know is that suffocating pressure was mounted on Uduaghan to change his mind, as they reminded him that all his political friends and associates are in PDP and if he leaves for APC, these persons could automatically become his political enemies or opponents."
"I do not know what they agreed concerning his senatorial ambition, but I was informed that they have not concluded on that. However, it is conspicuous that Uduaghan cannot be denied the Delta South senatorial ticket. It was agreed that Ibori should handle that himself by talking to any person, who wants to pose a stumbling block."
"From what I gathered, I do not think that Hon Michal Diden, aka Ejele, was considered a threat to Uduaghan, people are going to mount pressure on him as they did on Uduaghan to step aside. The only problem is Senator James Manager, who is a member of the family, but because he would be completely four straight tenures, which is 16 years as a Senator by 2019, he cannot morally hold on to the position.
"But the issue is that before you push a big masquerade like Senator Manager out of the dance arena, you must also figure out his interest.   Otherwise, he will create another trouble for the family by refusing to listen to appeal to back out.
Senator Manager was said to have indicated interest to come in as Deputy Governor in 2019 with Okowa, but the governor seemed not disposed to the idea, as soon after the idea was mooted, he quickly announced that he would be running with his deputy, Deacon Kingsley Otuaro.
As at today, Senator Manager has not told anybody that he is not going to run for a fifth tenure in 2019, but unquestionably bolstered by the recent compromises and assurances from the governor, Uduaghan is set to rev his senatorial machinery.
What we did to stop Uduaghan- Amori
Chief Amori, Political Adviser to the National Chairman of PDP, who was involved in the negotiations that saw Uduaghan rescind his step, told our reporter: "As a foundation member of the Ibori political family, he has served in different capacities as commissioner, secretary to the state government and governor. That is where he has his political associates and friends. So, if for any reason, we come to hear that he was contemplating leaving the party to join APC, of course, we all, from Ibori to the governor and others, called his attention and of course, we intervened."
"We have held several meetings, both in Asaba and Oghara, and of course, Lagos where he (Uduaghan) has actually expressed some of the things that make him want to leave the party for APC.
"And we have appealed to him to have a rethink because all his political associates are still in PDP. That is where he belongs. It is the PDP that brought him up to the political limelight he is enjoying today. He cannot for one reason or the other jump ship to another party.
"There is no issue that cannot be addressed. These are the situations we find ourselves every time as politicians. Even when he was governor, similar things happened and we rose to the occasion. So it was during Ibori's time. Something like this happened; it is bound to happen in politics.
…We've our reason for stopping him
"What we should do is sit down and sort it out, and so we appealed to him.   But I can assure you that his political family and friends are talking to him, of course, that is the best thing we will do, not to allow him to go. He has his reason, we also have our reason we would not want him to go," Amori said.
Okowa, associates already addressing grievances
On the issues raised by Uduaghan, he asserted: "What I want to say is that the issues he raised are being addressed by the governor and those of us, who are his associates."
Does he think Uduaghan will still not dump the party, Amori replied: "I think he is giving our plea a very positive consideration. I think he is listening, if not, he would have left the party long ago."
Questioned on if Governor Okowa was open to Uduaghan not abandoning the party, he said: "Yes the governor was involved in all the discussions. And some of the issues Uduaghan raised had to do with him (the governor) and with the party."
"I can tell you that the governor has even started implementing some of the decisions we reached at some of our meetings. Yes, he has started implementing them," he added.
Okowa, Uduaghan held one-one one meeting
He confirmed that Uduaghan held a one-one meeting with Okowa besides the meeting between him, Ibori and Okowa in the bid to resolve the matter.
Amori asserted: "The caucus also met and there have been meetings down the line. Former Secretary to the State Government, Comrade Ovuozorie Macaulay, former Commissioner, Mr. Funkekeme Solomon, Raymos Guanah and a whole lot of others that are close to Uduaghan have been talking to him."
"Of course, Chief Paulinus Akpeki,who is the Chief Strategist to the Delta State Government has been involved in it. So, there is no problem, our leader, Ibori is on top of it all."
Ibori, Okowa also suffered in the party
"We have told him (Uduaghan) that he cannot live outside his political family. If he goes away, these people become his political opponents and it is not healthy for us. And we have been together for over 20 years, since the Grassroots Democratic Movement, GDM days, so how can he leave the party that he helped to build from the very beginning," he said.
His words: "If it is suffering, people have suffered in the party, Ibori went to jail for all of us, or have I (Amori) not suffered in the party? I have. Even Okowa himself has suffered one thing or the other in the party. We did not jump ship despite the sufferings. I believe he is listening to our numerous advices."
Nobody, including Uduaghan's wife wants him to leave PDP
Amori told Saturday Vanguard: "I can tell you that everybody around Uduaghan does not support him leaving the party, no one, I cannot see anyone, including his own biological family, up to his wife and children. No one is in support of his leaving. That is the truth. His brothers, friends, sisters, no one and of course, myself, we are not in support. "
"Whatever issues are involved, they can be discussed and attended to by the leadership of the family and that is exactly what we are doing," he stated. But investigations showed that this is not true. There were many who wanted him to join APC. They are still pushing and very hopeful that if he joins the APC he would not only get the ticket for the senatorial election, he would also tremendously help APC in dislodging PDP in Delta.
Some Uduaghan loyalists not happy with new stand
Findings by this paper, however, indicate that many core Uduaghan loyalists, still maintain that the best thing for boss to do was to quit PDP.   One of them, who spoke on condition of anonymity, said: "Uduaghan should defect to APC; he should forget Ibori, Okowa and all those asking him to stay back. He can never be respected by Okowa, I do not see him getting his honor back in PDP, and they will only succeed in making him irrelevant in 2019. He should defect to APC because they only buckled when they found out that you want to fight back, they do not love you in PDP."
The stalwart warned: "Your political empire will crumble if you remain in PDP. This government in the state does not wish you well, they want to end your political career, which will be brighter in APC. Most of us, who are your men, are being fought today by the same government because of you, so you should not team up with them. You cannot trust them. They have been humiliating you and now that APC wants you to operate at national level they are holding you back. We are very disappointed that you are even considering remaining in PDP. PDP in Delta state is no longer the way it was in Ibori's time and your time as governor."