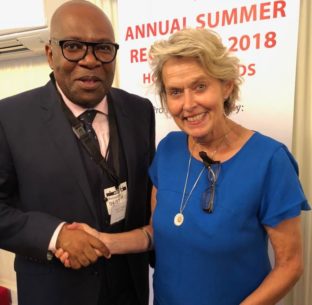 By Agbonkhese Oboh
A humanitarian organisation, Jose Foundation, has begun nationwide collection of signatures on Name and Shame Child Sexual Exploitation, CSE, Movement, to petition President Muhammadu Buhari; the Senate President, Dr. Bukola Saraki, and Speaker of the House of Representatives, Hon. Yakubu Dogara, over the wave of CSE in the country.
According to the petition by President of Jose Foundation, Dr. Martins Abhulimhen, entitled "A child is sexually exploited do you care? Unabated Child Sexual Exploitation, CSE, in Nigeria," acts of sexual exploitation and abuses on children who are the bedrock of tomorrow's Nigeria cannot go on without punitive responses by the leadership of the country.
It said: "In 2003, Nigeria adopted the Child Rights Act to domesticate the Convention on the Rights of the Child.
"Although the Act was intended to serve as a legal documentation and protection of children rights and responsibilities, 15 years after, the Nigerian child is being raped, abused and exploited on a daily basis.
"It is so alarming that the Nigerian child has become an endangered species and, regrettably, many of the abusers are getting away with it.
"Unfortunately, sacred places such as religious homes are increasingly becoming centres for child sexual exploitations in Nigeria. Some of the abusers of children are members of the families of the victims, a violation that is well organised and silencing the victims from talking."
In the petition, Prince Abhulimhen told President Buhari and the leadership of the National Assembly that it will be a shame on the nation if nothing is done to address the prevalent and flagrant abuse of minors.
"We," he said, "cannot allow the silent war on our future generation continue unchecked.
"We will do all that is necessary to get you to hear us, and make the changes needed, across every area of our society that plays a part in protecting children.
"If every member of the Federal Executive Council, FEC, and members of the National Assembly are not calling for action here, the children will one day say 'our leaders let us down'.
"As a start, we need to see the government implement all recommendations that come out of any inquiry, government-sanctioned seminar, workshop and other empirical findings on ways to addressing the challenges of child sexual exploitation and other forms of child abuses in the country and prosecute all child rights violators and children abusers.
"Not delivering justice to these victims of abuses and protecting the children from any form of attacks will mean also that our leaders are not performing their constitutional role of protecting the citizens."