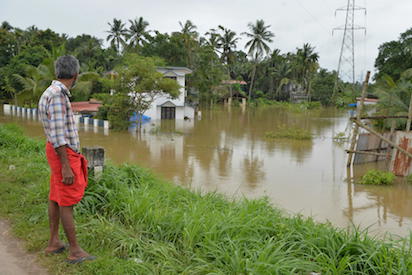 An Indian man watches marooned houses on the outskirts of Kozhikode district, about 385 km north of Trivandrum in the south Indian state of Kerala, on August 17, 2018. Troop reinforcements stepped up desperate rescue attempts in India's flood-stricken Kerala state on August 17 after more than 100 bodies were found in a day and a half, taking the crisis death toll to at least 164. / AFP PHOTO /
By David Odama
as residents kick over bad roar, others
LAFIA – THREE persons were reportedly killed in Mararaba area of Karu local government of Nasarawa state following the heavy rain that ravaged the area Wednesday night.

Several houses and property estimated at several millions of naira were destroyed following the flooding that wreaked havoc in the community.
Residents, motorcyclists and other commuters in the area who blamed the incident on the neglect by both the state and local governments have however called on Governor Tanko Almakura to urgently commence repair work on rural roads, collapse bridges to remove the untold hardship being encountered in the area.
The residents and motorists, who lamented the hardship facing them following the poor state of the roads, regretted the death of the victims who lost their lives as a result of the flood that hits the area.
According to them, "the repair of the roads, broken down bridges and culverts would not only avert tragedy such as this when there was heavy rainfall, but will assist farmers evacuate their produce to the market".
Commenting on the incident, Chairman, Calvary Road Residence Development Association, Kabayi, Leonard Ogu said, because of the near absence of motorable road, water, health facilities and power supply, life was becoming unbearable as the education of their children was being hampered, noting that children were always at home during school hours each time there were heavy rain.
Ugu stated further that the bad condition of the rural roads and other amenities have continued to affect the community who have been spending through communal efforts to build culverts and carry out other repairs because of the state of the community.
Alhaji Adamu Zohkwai Mikag, a resident of Calvary Area of Mararaba also told our correspondent that each time there was an issue of this nature, the community will mobilize resources to repair the road which he claimed they have been doing over the years without government assistance.
"The State and Local Governments should consider emergency repair of the rural roads in our area to avert further tragedy in this community. We are part and parcel of Nasarawa state. We cannot be treated differently", the Chairman said.
On his part, Eng.Napoleon Uduogie, claimed, however that the community had made several representations both physically as well as in writing to both the state and local governments for intervention to no avail.
He alleged that the community have expended over N10m to carry out construction of culverts, provision of boreholes and power supply without any assistance from any level of government, rather some of the community projects are now being laid claim to by the Karu local government.
His words: "We are hoping that the administration of Alhaji Tanko Almakura will listen to our cry and direct the immediate repair of the road and some other bridges hence our plight.