As part of efforts to reduce the scourge of cervical cancer among Nigerian women, the Exquisite Magazine will this Saturday hold a weeklong free screening and its annual EMAC #SmearIt walk and Smearathon in Lagos, Ibadan and Ijebu-ode respectively.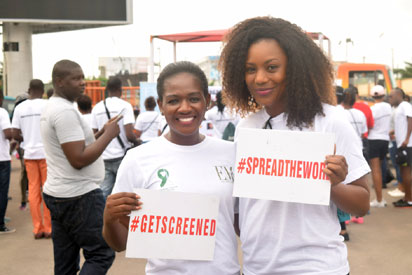 The free screening will hold in Lagos, September 1st, Ibadan 4th and Ijebu-ode 8th, 2018 in partnership with Act Foundation.
This year, the Exquisite magazine annual walk for cervical cancer prevention will provide free screening for over 1000 women in these three states. The event will feature alongside the free screening, a brief talk on cervical cancer, walk and workout session, music, entertainment and networking.
In statement signed Chief Communications Officer,  Genuine Health Africa issued, Kemi  Olawoye they noted that every hour in Nigeria, women die of cervical cancer, a disease that is largely preventable thanks to screening tests and vaccination.
Olawoye said: "We must raise awareness and educate everyone on preventive methods for this form of cancer that is preventable and treatable when detected early. Our drive is to get women screened, children vaccinated while spreading the word early detection saves lives."
The annual Smearit Walk and Smearathon would hold its Lagos edition on Saturday, 1st of September 2018 at Muri Okunola Park from 7am.
We are calling everyone to join us for this walk for cervical cancer prevention and inviting all women who have not been screened to take advantage of the free screening session, which is being provided for 1000 women in three different locations through the Act Foundation.