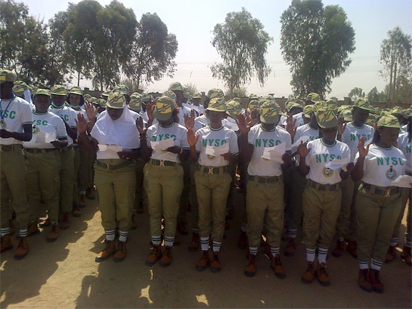 2016 Batch 'B' (Stream II) Corps members taking the oath of allegiance at the NYSC Permanent Orientation Camp in Kano State
Corps members 
By Femi Bolaji
JALINGO– One more body of the drowned corps member has been recovered by divers, says public relations officer of NYSC in Taraba, Odeh Innuma.
In a chat with Vanguard at the NYSC orientation camp on Wednesday, Innuma said "information reaching us indicate that another body has been recovered by divers today.
" It is a male and we are still searching for the last corps member who is female.
"As we speak arrangement have been made to get the corpse of the recovered body from Gashaka. We have also contacted the family on the recent development."
Contacted, Principal of Elly Demonstration Academy, Serti, Aliyu Abdullahi on Wednesday evening said "Ifeanyi's body has been seen by the divers today."
A Woman Warned them to leave – Principal
Principal of Elly Demonstration Academy, Aliyu Abdullahi while recounting the scenario at the police station on Saturday after the 9 corps members drowned at river Mayo Selbe said "I met a Kaka woman crying at the police station and inquired to know why she was so bitter then she told me the story.
According to him the woman said, "my day is not fine because i told the corps members to vacate the location because there was water flowing from the mountain top into the river.
" I told them to relocate because with the way I was seeing the water flow from the mountain top, it will be dangerous if they stayed there before I left.
"When I heard of the incident I could not help but come down to see for myself and discovered that some of the corps members were swept away by the wave of the heavy water flow.."
It would be recalled that divers who resumed search on all rivers in Gashaka on Tuesday had earlier recovered seven corpse out of the nine drowned corps members in Mayo Selbe river as at Sunday.