By Perez Brisibe
DELTA — The two factions of the All Progressives Congress, APC in Delta State may have decided to flout the directive of the national chairman of the party, Comrade Adams Oshiomhole on the need to resolve their differences and work as a untied team.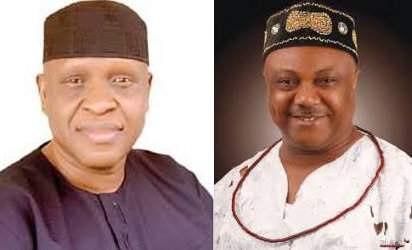 The two main factions of the party are divided along support for Olorogun Otega Emerhor on one side and the pair of Olorogun Great Ogboru/Senator Ovie Omo-Agege on the other side.
In his intervention Oshiomhole had drawn from the party's guidelines and constitution and inaugurated the Prophet Jones Erue led executive which was championed by Ogboru and Omo-Agege. He, however, enjoined the recognised faction to be ready to give up certain positions in order to integrate the Emerhor loyalists. The division between both factions came to a climax at the party's national convention last June when supporters of both tendencies fought on the convention ground as President Muhammadu Buhari was delivering his address.
The Emerhor backed faction which has Chief Cyril Ogodo as its chairman had at a meeting in Asaba affirmed itself as the recognised faction explaining that it was the faction that participated in the national convention.
In the meeting at Asaba which was presided by Chief Ogodo and other leaders of the party, the faction described the swearing of Erue as the state chairman of the party as "illegal, unconstitutional, repugnant to natural justice, equity and good conscience."
The communiqué which was signed by Alex Onwudiamu, said: "The purported moves by Erue pretending to reconcile aggrieved members and a group of people who never contested elections parading as state executives is a smokescreen preparatory to his working for Peoples Democratic Party, PDP as he has also done in time past.
However, Publicity Secretary of the Erue-led executive, Imonina Sylvester in a statement explained that the congresses that led to the emergence of Prophet Jones Erue led Executive was/is rooted in law and party guidelines adding that those who conducted the congresses were appointed by NWC of the party.
He said: "Though, some persons made away with some election materials which they used to conduct parallel congresses. Those people went further to hoodwinked the then National Chairman to purportedly rubber stamp their illegality, despite an interim order of injunction of High Court, Asaba, obtained by Chief Fred Obe who was said to have participated in their purported congress. When the present NWC came on board, it looked into Delta issue, and after series of consultation, Prophet Jones Ode Erue Executive was recognized as the duly elected Executive and Jones Ode Erue was subsequently sworn-in.
"In the legal world, once the Supreme Court gives judgement, lower Courts are bound by it, while in the political settings, once the highest body of any party takes a decision, same is binding on all members. The National leadership of the party had taken a position on the issue of Apc leadership in Delta State.