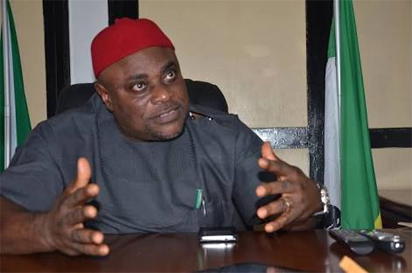 Chief Victor Ike-Oye
By Vincent Ujumadu
AWKA—THE national chairman of All Progressive Grand Alliance, APGA, Chief Victor Oye yesterday described the ongoing defections by politicians from one political party to the other as very unfortunate, saying however that it was part of the learning process in Nigeria's democracy.
Speaking in an interview, Oye said the current defections could not be compared to the one that took place in 2014 when politicians from various parties came together to wrestle power from the then ruling People's Democratic Party, PDP.
According to him, Nigerians should not lose hope about the survival of the nation's democracy because of the ongoing defections, adding that it was part of the process towards achieving the much needed political stability.
He said: "The defection by some members of the national assembly and governors with the approach of the 2019 general elections is really unfortunate. But what happened in 2014 when many politicians left the PDP to join the new APC was different from what is happening now.
"That time, it was an amalgamation of various political parties, which is different from the current situation whereby people are moving from the APC to PDP. Comparing the two, it is obvious that the current defectors are doing so for the purpose of achieving their individual political objectives.
"Besides, some of the people said to have moved are denying that they ever moved, thereby creating more confusion. In the midst of the ongoing situation, APGA has decided not to be part of it. We are independent and watching the drama as it unfolds."
Oye explained that his party would eventually take a decision on the 2019 general elections and urged Nigerians to remain calm and expect the APGA position.