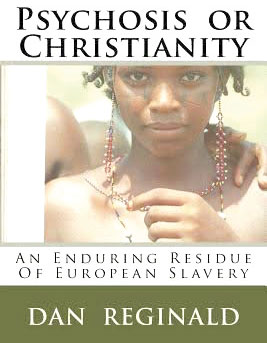 By Dotun Ibiwoye
Abundance of healthy and cheap food comes first among other requisites in the pursuit of survival. Next is education. Man hours spent in  church will not feed the masses.Poor people of Africa appear to have no other choice but to rely on the Supreme Being.
Whether this is borne out of sincere faith or  consolation, it's essential for their identity and sanity.The 220-page "Psychosis or Christianity: Residue of European Slavery written by Dan Reginald, provides a thorough and deep insight on colonialism.
Published by CreateSpace Independent Publishing Platform, the book cites real life scenarios with dates which point to Africa as the world's capital of fake prophets. The shepherd of moron-sheep which unnaturally shepherds other sheep.The author also describes illusion as a major obstacle of Africans, noting that religious leaders control the minds, emotions and behaviour of African. The first chapter examines theoretical and philosophical underpinning of religion with a view to provide an in-depth understanding of the role religion plays in the daily lives of Africans. "As of January 2016," he writes, "suspected and confirmed cases totaled more than 28,600 and reported deaths  about 11,300, making the epidemic larger than all previous Ebola outbreaks combined."
"Globalization, which is supposed to break trade barriers,"  the author argues, has rather widened the inequality gap between the rich and the poor. Besides dealing with issues concerning Christianity in Africa, the book also dwelt on issues and effects of Islam and radicalization. Reginald, who also devotes space to deal with the inherent and adopted religion in Africa, posits that since poor governance and mismanagement has hampered the continent's capacity to fulfill its developmental goals, religion is the only hope of the people.
The actual number of Africans taken continues to be disputed, but it is somewhere in the range of 15million to 20 million people, according to him as he noted that many of those captured were undocumented and that the effect  lingers till today.Reginald avers that slave trade was responsible for major disruptions in the lives of Africans and that genetic damage is the most enduring residue of European slave trade amongst millions of kidnapped Africans.