Alhaji Rabiu Kwankwaso , the 61-year-old former Kano state governor, who recently defected to Peoples Democratic Party (PDP) has again been booed by members of the public.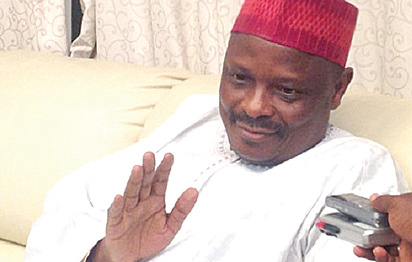 At the close of Jumat service in Kaduna on Friday, the politician seeking presidential ticket of PDP, walked into the waiting hands of hostile crowd who chanted "Sai Buhari''.
As he waved, the jeering crowd surged shouting "Sai Buhari'', an indication of his rejection.
The twitter video of the incident is succinctly captured by the twitter handle of APC United Kingdom.
[BREAKING: KWANKWASO ROASTED AGAIN!] Second time within the week:

Sen. Kwankwaso got the SAI BABA treatment AGAIN at Jumu'a Mosque in Kaduna after the Abuja airport 'roasting' earlier in the week!@OfficialAPCNg @fkeyamo @DeeOneAyekooto @dgebis @hbgumi @gebusites @ToksAfikuyomi pic.twitter.com/NY5VsYBbcS

— APC United Kingdom (@APCUKingdom) 10 August 2018
He was similarly humiliated at the Nnamdi Azikiwe International Airport in Abuja, where passengers and onlookers booed, shouting "Sai Buhari''.
ROASTING OF THE DAY:

Sen. Kwankwaso got the SAI BABA treatment at the airport. Tough times ahead …. pic.twitter.com/l4rdBtRDWz

— APC United Kingdom (@APCUKingdom) 6 August 2018
Kwankwaso was two times Governor of Kano State from 1999–2003 and 2011–2015 and he was the first governor of Kano State in the fourth republic who was elected under the platform of People's Democratic Party (Nigeria).
Kwankwaso lost re-election bid in 2003 to Ibrahim Shekarau and was in July same year appointed Defense Minister by President Olusegun Obasanjo.
In 2015, Kwankwaso unsuccessfully contested the presidential primaries nomination under the opposition All Progressive Congress, but lost to Muhammad Buhari.
He then swapped to contest the senatorial seat for Kano Central Senatorial District.
He recently defected again to PDP, causing some ripples in APC.