By Clifford Ndujihe
SACKED Director-General of the Department of State Service, DSS, Lawal Daura, assumed duties on July 3, 2015 in controversial circumstances. Yesterday, he was, once again, relieved of his position in a controversial and dramatic manner by Acting President Yemi Osinbajo.
From his appointment to his sack, Mr. Daura had been in the news for controversial actions.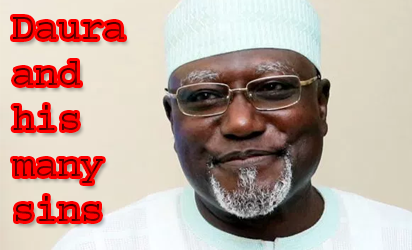 Hailing from Daura, Katsina State as President Muhammadu Buhari, there were calls against his appointment from many quarters. The reasons included: He was retired from the DSS before President Buhari recalled him; he served on the  All Progressives Congress, APC, security and intelligence committee during the 2015 elections; and he is also from Daura as the president and his appointment ignored calls to redress alleged increasing lopsided appointments in favour of Katsina State and North-West geo-political zone against other parts of the country.
Given the controversies that trailed his appointment, Daura assumed duties on a promising and conciliatory note. He assured Nigerians that he would be fair and accountable to them in carrying out his duties.
It is arguable whether or not he kept his word. A peep into some of the major actions he took as DSS boss reveals unsavoury developments that culminated in his sack, yesterday.
Some of the scandals that trailed Daura's tenure include: the recruitment scandal in the DSS; face-off with Customs Controller-General over allegations of unprofessionalism, and illegality; withdrawal of  security guards attached to leaders of the National Assembly;    face-off with the Economic and Financial Crimes Commission, EFCC, over graft allegations; building a multi-billion naira DSS Training School in Katsina; failure to produce former National Security Adviser, Sambo Dasuki in court to give evidence as ordered by court; providing security for Abdulrasheed Maina, invasion of the residence of Senator Enyinnaya Abaribe; and yesterday's blockade of the National Assembly among others.
DSS recruitment scandal
Scandal rocked the  recruitment of 479 officers by the DSS in which Katsina State had 51, more than 10 per cent of the in-takes. The figure allocated to Katsina was just six less than what the South-West received and nine higher than what went to the South-East. A breakdown of the newly commissioned cadet officers on geo-political basis revealed that 165 were from the North-West, South-South (42), North-East (100); North-Central (66); South-West (57); and South-East (44)
Withdrawal of NASS leaders' security guards
Early June, 2018, a dispute over contingency security allocations led to an abrupt withdrawal of 65 per cent of personal security guards attached to the presiding officers of the National Assembly, by the DSS. The agency implemented about 65 per cent draw down across board in security protection for the top lawmakers, sparking a nationwide uproar. The controversial exercise affected Senate President Bukola Saraki, Speaker Yakubu Dogara, Deputy Senate President Ike Ekweremadu and Deputy Speaker Yusuf Lasun.
The secret police partially returned some of the withdrawn officers to Saraki and Dogara after a security meeting with Vice President Osinbajo following political pressure from the new PDP bloc of the APC
The disagreement reportedly stemmed from the National Assembly's rejection of a presidential approval issued to the DSS for the inclusion of "some billions of Naira" into the 2018 budget.
Face-off with EFCC
On November 21, 2017, the DSS stopped EFCC officials, who were armed with both search and arrest warrants, from arresting Ita Ekpeyong, the immediate past Director-General of the DSS, and his National Intelligence Agency, NIA, counterpart, Ayodele Oke who was earlier sacked by President Buhari along with the former secretary to the government of the federation, SGF, Babachir Lawal.
The EFCC operatives were said to be after the DSS boss over allegations of corruption.
Spat with Customs DG
In late December 2016, The DSS DG had a spat with Customs DG, over allegations and counter allegations of unprofessionalism and illegality. Daura wrote to President Buhari on September 8, accusing the NCS of illegally introducing a $25,000 as new Temporary Import Permit, TIP, levy on each vessel that berths to discharge petroleum products in Nigeria.
Subscribe for latest Videos