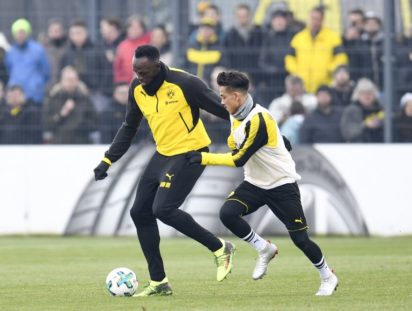 Retired Jamaican Olympic and World champion sprinter Usain Bolt (L) plays the ball as he takes part in a training session of German first Bundesliga football team Dortmund, on March 23, in Dortmund. Bolt, 31, who holds the world records for the 100m and 200m, had already announced last January that he would be training with Dortmund during the current international break. / AFP PHOTO / Patrik STOLLARZ
In a bid to ensure his ambition in football is achieved, Usain Bolt will make his debut for the Central Coast Mariners in an Australian A-League pre-season exhibition game against an amateur team.

The eight-time Olympic sprinting gold medalist from Jamaica is on trial with the Mariners, hoping to win a professional contract.
He has been practicing this week on the left wing and expects to play about 15 to 20 minutes in that position during Friday's exhibition match.
Club officials are predicting a crowd of 12,000 for the home game in Gosford, north of Sydney.
Bolt, who is at home on a much larger stage, expected to be nervous on his debut.
"There definitely will be nerves, it's not like it's a charity game anymore," Bolt said.
"I expect to make mistakes but I also expect to go out there, make myself proud and to push myself.
"I know I'm not going to have a perfect game."
Bolt had his first full practice session with the Mariners on Tuesday after taking time to ease into his new role during his first week with the club. He appeared at times to struggle with the pace and demands of training.
Some critics have said Bolt's bid to turn professional is little more than a gimmick, but staff at the club say they're giving the world's fastest runner a chance to prove himself.
"The thing he's struggling with more than anything else right now is getting used to the football fitness," Mariners coach Mike Mulvey said. He said in terms of skills, Bolt is "doing OK."
"He's got rudimentary skills, there's no problem about that ," Mulvey said. "It's about being able to do it at the speed that we do it."
Bolt said he's finding the nature of football training different and demanding but felt he had made some improvement in his first week.
"For me, it's the stop and go's, the tick-tacks. Because I'm not used to picking up speed, going back down, up and down, up and down, back and forth, that's the most challenging," he said. "The season doesn't start until the end of October, so I have time."
The 32-year-old Bolt, who holds the world records for the 100- and 200-meter sprints and was the undisputed track and field star of three Olympics, thinks he isn't far from full fitness.
"It's just time," he said. "I don't know how my body is going to feel. I know when I'm on the field I'm always going to push myself."