*As Saraki commends festival
ABEOKUTA — THE Awujale and paramount ruler of Ijebuland, Oba Sikiru Adetona, Thursday, threatened to rain curses on politicians and their supporters who play politics at the venue of Ojude-Oba festival.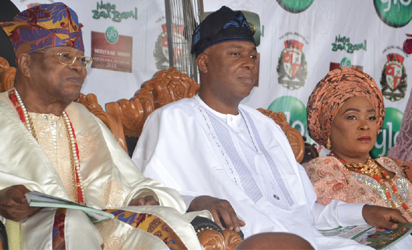 Awujale reacted to the action of a small group of people among the crowd, who were chanting the slogan of the All Progressives Congress, APC, at the venue of the event, located directly opposite the monarch's palace.
The small group of people wielded brooms, which is the symbol of APC at the venue and were also chanting the APC slogan intermittently at the venue of the festival.
The monarch, who was visibly angry with the politically motivated action threatened to change his annual royal blessings to curses if such an action was repeated.
Awujale said: "Those who waved the broom are not of Ijebu extraction. I believe they must have been hired. The Ojude Oba is over 100 years, what you did today has never happened. Many groups are here, what you have done today has never happened.
"I believe most of you are not members of the APC. We have people from the Peoples Democratic Party, PDP, the Social Democratic Party, PDP, among others.
"Ojude Oba is about culture and tradition. It is non-political. It has been like that since our forefathers started it. It is an abomination for anyone to drag politics into it.
"I want to appeal that such act should not repeat itself here. If those who hired you are bold enough, they should show their faces."
Saraki commends festival
Addressing the gathering, Saraki who was the special guest at the event, lauded the festival, describing it as a platform for the Ijebu to meet, interact and showcase their cultural heritage.
Saraki was accompanied by seven senators including; Senator  Ben Murray-Bruce, Senator Dino Melaye, Senator Biodun Olujimi, Senator Duro Faseyi, Senator Sam Anyanwu, Senator Rafiu Ibrahim and Senator Shaba Lafiaaji among others.
The Senate President said: "I would like to say, with some emphasis, that our dear country, Nigeria, would do well to draw important lessons from an event such as this. We are one. Religion should not constitute a wedge or barrier between us. This is what illustrious Ijebu people demonstrate to us yearly with this festival. Muslims, Christians and others can be found among us here today, and I understand that this is how it has been since the very beginning."
"Ojude- Oba affirms that Nigeria's cultures are veritable sources of revenue, if well packaged."
Amosun apologises for absence
The state governor, Senator Ibikunle Amosun, who was represented by his deputy, Mrs. Yetunde Onanuga at the event, apologised on behalf of the governor for his absence due to reasons beyond his control.
Commending the Awujale for the successful hosting of this year's Ojude Oba festival, Amosun described the festival as a global tourist attraction of people not only across but also outside the country.