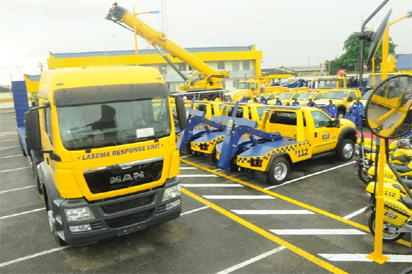 The newly commissioned Ago Palace Way, Okota, Isolo, on Monday, May 23, 2016.
By Yinka Kolawole
THE impact of the National Automotive Policy on the local vehicle manufacturing industry in Nigeria has been boosted with the assemblage of VolksWagen (VW) trucks by AG Leventis Nigeria in Ibadan.
The National Automotive Policy is aimed at encouraging local manufacturing of automobiles by offering protection/incentives to potential and existing local investors, while at the same time discouraging importation.
In a statement made available to Vanguard, Sunday Asade, Chief Operating Officer, AG Leventis, said the assembly plant in Moniya, Ibadan, is owned and operated by Leventis, but with specification put together by VW.
Asade said the company enjoys a healthy partnership with VW in Brazil, which is why all the products of VW in Nigeria are assembled by Leventis.
He stated: "Now that we have the assembly plant, people who are assembling the vehicles are trained by our partners from VW Brazil. The technical capability they have is very high. The cost of maintenance is very low because the vehicles are assembled here."
Asade noted that about 54 licenses have so far been issued by the National Automotive Design and Development Council (NADDC) for local assembly of vehicles, with the firms having installed capacity of 410,000.
"When we have this auto policy, it makes foreign companies bring in their businesses here. You can see the VW Brazil coming here. When you have this, you improve the economy, compared with when you are bringing in new trucks," he added.