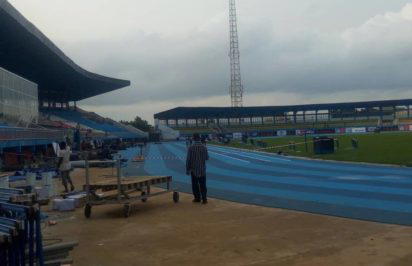 Stephen Keshi Stadium, Asaba,
Stephen Keshi Stadium, Asaba,
Technical officials of the 2018 African Athletics Championships were forced to alter the opening day events, following the late arrival of some countries to Asaba.
It was only yesterday morning countries like Kenya arrived in Asaba after two days of delay in Lagos dues to hitches in flights arrangements. Most of their athletes were expected to participating in some of the opening events.
After brief deliberations officials shifted the programme to start at 3.00pm with the 100m heats and later in the 10,000m decided. More events are to follow today.
However, the athletes showed no sign that they have been knocked off their balance by the tedious travelling arrangements.
In the men 100m  Nigeria's Ogho-Oghene Egwero and Seye Ogunleye eased into the semi-finals that will be decided today. However, it was quite obvious that the event will be a showdown between Cote d' Ivoire's Ben Youssef Meite, Arthur Gue Cisse  and South Africa Akani Simbine.
"I'm here to do my job and not looking at other competitors," said veteran Meite who has won two-back to titles.
"I'm looking forward to racing in the final with winning the title in mind."