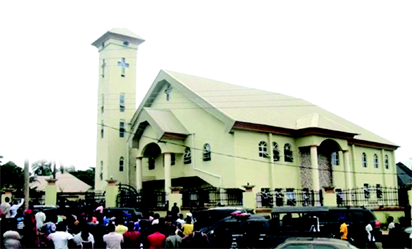 Ozubulu church
By Godfrey Bivbere & Ebuka Oko
The Anambra State government has entered into partnership with a South African company, Arup, to construct a 14,000 Twenty Equivalent Unit, TEUs capacity Inland Container Depot to be located at Ozubulu.
The first phase of the facility is expected to be completed before the end of this year.
The entire project would have a train station, a bonded terminal, dry port and export zone at completion.
The project, to be known as Anambra Bonded Terminal and Freight Station Limited, is expected to serve traders in both Onitsha and Nnewi.
Disclosing this to Vanguard Maritime Report, consultant to the project and National President of the Association of Nigeria Licensed Customs Agents, Tony Iju Nwabunike, said the project is fashioned after that of Kaduna ICD.
According to him, "It is about 14,000 TEUs. We have two phases.  We are doing phase one now.
"The whole project is what we should expect because it is large and they are having an institution there too. So it is going to be a total composition of train station, bonded terminal, dry port and export station. Anambra state government is really working on that.
"It is located at Ozubulu, just 15 kilometers from Onitsha, Onitsha-Owerri road and 10km to Nnewi.''
On how to move containers to the facility when completed he said, "Just like we are moving containers to Kaduna ICD because the train station is not working yet. Even in  "Kaduna, we are moving the containers there without train. Most of them are by road.