By Etop Ekanem
Association of Local Governments in Nigeria, ALGON, has honoured four governors across the country, including Governor Badaru Abubakar of Jigawa State being awarded the Best Governor in Infrastructure provision during ALGON annual investiture and awards night, in Abuja.
Reading his citation, Gambo Tanko Kagar, Chairman of ALGON, said: "Before 'salary bailout' became a popular catch phrase in the states, Badaru was quietly augmenting the allocations of almost 70 per cent of his 27 local governments so they could settle recurrent liabilities till the financial situation improved. This went on from November 2015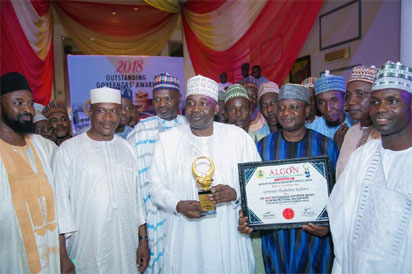 to March 2016, and this process helped thousands of local government employees to continue getting their pay cheques on schedule without realising that a rescue operation was in place at the state level.
"Badaru took the politically unpopular decision to complete all the ongoing infrastructure projects he inherited from the previous administration after verifying them for value for money and economic impact. The audit panel came up with a figure of N91.6 billion in ongoing projects, mainly roads, hurriedly awarded between January and May 2015, and N13.6 billion unpaid vouchers.
"Over N11 billion discounts were negotiated with the contractors with N8.2 billion savings realised on road contracts alone, and contractors were given a commitment to instant payment of verified valuation  certificates which prompted them to resume work at a dizzying pace.
"As at May 2018 716.5 km of those inherited projects were completed with Governor Badaru  keeping to his word and paying over N31 billion as at when due."
The ALGON chair said what was particularly endearing to its selection committee was the fact that while billions of naira were going into capital expenditure in Jigawa, it remained one of very few states where all state and local government salaries including optional allowances, and all pension and gratuity liabilities were paid as at when due from the  administrations inception to date.