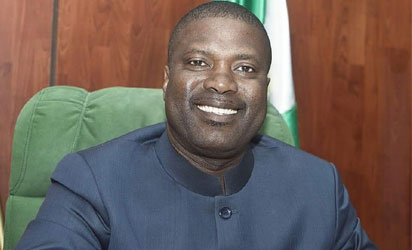 By Harris-Okon Emmanuel
UYO- FAITHFULS of the All Progressives Congress (APC) in Akwa Ibom State have remained in celebratory mood following the defection of Senator Godswill Akpabio and others to the party, as the Managing Director of Niger Delta Development Commission (NDDC), Dr. Nsima Ekere, a chieftain of the party, has declared that with the latest exodus into the party from the Peoples' Democratic Party (PDP) the people of the State were now overwhelmingly with the APC.
Ekere said with the movement of some PDP bigwigs into the party, it was clear that the party was heading to a clean sweep in the 2019 elections in the state.
"With the grace of God and with Godswill Akpabio and others coming to us, we will return President Muhammadu Buhari in Akwa Ibom State and win the governorship election," Ekere predicted, adding, "With what is happening, I can boldly say that Akwa Ibom State is totally APC."
The NDDC boss commended Akpabio for heeding the call of his people in his senatorial district to join APC, a call they made recently where they also endorsed Buhari for a second term and urge Ekere to contest the 2019 gubernatorial election.
He pointed out that the people of the senatorial district had also used the occasion to express their total dissatisfaction with the performances of what they called the clueless PDP State Government.
Ekere recalled Akpabio's superlative performances during his tenure as Akwa Ibom State Governor which earned him the sobriquet, "Uncommon Transformer."
He assured Akpabio that the incoming APC administration in the state will complete the abandoned Ikot Ekpene – Uyo Road and open the Four-Points-By- Sheraton Hotel, Ikot Ekpene, which the Akpabio Administration had completed and commissioned.