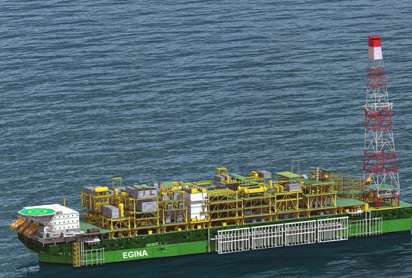 By Ediri Ejoh
LAGOS—The $3.3 billion Floating Production Storage Offloading (FPSO) unit that sailed away in the early hours of Sunday from Lagos to the 200,000 barrels per day Egina oilfield will arrive at the offshore field this week, investigation has revealed.
The Egina FPSO was built by Samsung Heavy Industries of Korea (SHI) for Egina oilfield being developed at a cost of $16 billion by the global oil giant, Total.
With the successful completion of the fabrication and integration works in Lagos, the FPSO will arrive at the Egina oilfield located in Oil Mining Lease (OML) 130.
The FPSO sailed away from the quayside at Samsung Yard in Geoje, South Korea on October 31, 2017 and arrived at the SHI-MCI FZE quayside in LADOL free zone in Lagos in January, where it was integrated locally by Samsung Heavy Industries Nigeria (SHIN) Limited.
The fabrication and integration of the Egina FPSO in Nigeria was the first time such complex tasks were executed in Africa as there is no other FPSO integration yard elsewhere in the continent.
These tasks were executed at the SHI-MCI FZE,  a fabrication and integration yard, which is the only one of this facility  built by SHI as part of the efforts to make Nigeria the hub of FPSO integration in Africa.
An official of SHI, who did not want to be quoted said that on arrival at the Egina field, "mooring, hook-up and offshore commissioning will proceed favourably offshore with the final completion expected before the end of the year"
He said: "The project cost management is proceeding as scheduled with thorough preparation."
"The only major balance work now is the remaining commissioning work in offshore and to make the FPSO ready for entry of hydrocarbons (oil and gas) within 2018," he explained.
The Egina field will add 200,000 barrels per day of crude oil to Nigeria's daily output when it comes on stream.
This will amount to an increase of 10 per cent to Nigeria's daily production at peak.
In line with the Nigerian Oil and Gas Industry Development (NOGICD) Act of 2010, SHIN has successfully completed the Egina FPSO work in SHI-MCI yard under the stringent local content regulations with similar safety and quality standards applicable in the Geoje shipyard in Korea.
"This volume of onshore work was never before accomplished in Nigeria. Therefore, the major risky portion of Egina project has now been completed. This achievement has been followed by very good response from the authorities of the Nigerian government and international clients. This would lead SHI to gain a competitive edge in future offshore project orders to be placed in West Africa, of course including Nigeria. In terms of history, SHI won the order to build Egina FPSO in 2013," the SHI official added.