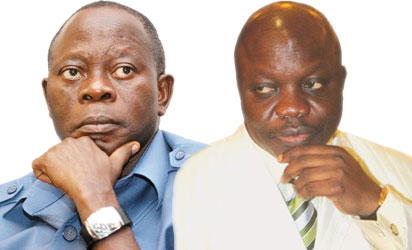 Oshiomhole-Uduaghan
Oshiomhole-Uduaghan
ASABA– THE All Progressives Congress, APC, determined to control at least three of the six states of the South-South geo-political zone from 2019 , has mounted fresh pressure on a former Governor of Delta State, Dr. Emmanuel Uduaghan, to dump the People's Democratic Party, PDP, for the party.
Vanguard reliably learnt that the high-powered lobby for Uduaghan by APC strategists was led by the National Chairman of the party, Comrade Adams Oshiomhole, himself a former governor of Edo state, who had never hidden the ambition for his party to take over Delta state from PDP, steered by Governor Ifeanyi Okowa, who succeeded Uduaghan.
At present, APC controls only Edo state, which is Oshiomhole's home state in the South-South, but with the recent successful entry of ex-Senate Minority Leader and former governor of Akwa Ibom state, Obong Godwill Akpabio, to the APC, the party's strategists believe it was time to go for Uduaghan with equal dexterity.
A source told Vanguard, Thursday: "Comrade Oshiomhole is already discussing with Dr. Uduaghan, never mind the attempts by another former governor of Delta state, Chief James Ibori, Governor Okowa and others to stop Uduaghan from joining APC, he is coming to APC."
"Even when they were calling and meeting with Uduaghan not to dump PDP, Oshiomhole was briefed on their plans, but he just allowed them to waste their time because he had finalized talks with him and was sure that he would not fall for their gamble," the source added.
According to the informed source, "Uduaghan is APC's talisman to take over Delta and Oshiomhole is not going back on him. Uduaghan has played commendable roles in APC and he knows that is where his heart is now."
Comrade Oshiomhole had already directed the state chairman of the party, Prophet Jones Erue to reconcile the warring parties in the state and present a harmonized front for the 2019 elections.
The party leadership, it was learnt, had already met with principal figures in the other camp, especially Olorgoun O'tega Emerhor and other leaders in line with the directive of Oshiomhole.
"Already, Senator Akpabio, who installed the current governor of Akwa Ibom state, Udom Emmanuel had been given marching orders by Oshiomhole to do all it will take for the APC to take over Akwa Ibom in 2019. He will be given all the required support from the centre and that is why you see that Akpabio has remained in the state to put things in placce.
"With Governor Godwin Obaseki's performance in Edo state and the fact that Oshiomhole is from there, APC has no problem in Edo.
"The problem is Delta, where Chief Ibori is calling the shots, but APC wants Uduaghan to come over as a prelude to Ibori joining the party if he wishes. But to say that APC will leave Delta in the hands of PDP is a joke. With Uduaghan and others, the party will retool and sack PDP from power. They know that they are in their last days in the state," he added.
It was gathered that because of the volatile nature of Rivers politics and powerful nature of Governor Nyemson Wike, the APC strategists want Senator Magnus Abe, who is pulling his strength under the new arrangement and Minister of Transportation, Rt Hon Chibuike Amaechi to reconcile their differences and join forces to outwit Wike.
Our findings, however, showed that Senator Abe is the main arrowhead of the plan by APC to snatch Rivers from PDP.
Bayelsa state is not in contention in 2019 as Governor Seriake Dickson's second tenure will expire in 2020, but the party has not yielded Cross River state to PDP, despite that Governor Ben Ayade and his forces think the state is secure for them.
Efforts to reach Uduaghan on phone, Thursday, were abortive, but one of his former aides, said: "Our boss has made up his mind to join APC, our people have been directed to register with APC, he will follow suit shortly."
Ntufam Hilliard Eta, the National Vice Chairman, South -South, who recently boasted that President Muhammadu Buhari would win South-South in the 2019 elections, could not be reached for comments.
Delta state chairman of the party, Prophet Jones Erue, told Vanguard, "I am in a meeting" when contacted on phone.