By Henry Boyo
The Deputy Speaker of the House of Representatives, Yusuff Lasun disclosed, last week, that the National Assembly, would interrupt its annual recess and reconvene, sometime, this week, to consider an expenditure proposal for N242bn for conducting 2019 General Elections. It is unclear, why President Mohammed Buhari omitted this item in the appropriation bill, presented to the National Assembly in November 2017.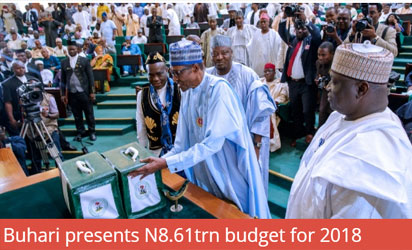 Although, NASS, also, unexpectedly ignored this glaring omission, curiously, nonetheless, the Legislators, clearly, remembered to allocate N578bn for "constituency projects, for themselves without prior agreement with the Budget office. Incidentally, the N9.1Tn 2018 budget, which is, nominally, Nigeria's largest annual fiscal plan ever, was presented to the NASS by President Buhari in November 2017; regrettably, Legislators' approval was delayed till May 2018, while Buhari also belatedly assented the bill on June 20th, 2018 i.e. 6 months into the budget year. Invariably, the extended delay may have severely doused any hope of successfully implementing this year's budget.
It seems however that, no lesson was learnt from the unresolved challenges that, ultimately, resulted in the expenditure of ONLY N1.49Tn out of the N2.029Tn actually allocated for Capital projects in 2017; similarly, the chances are slim that the total Capital budget of N2.8Tn for 2018 will also be fully applied.
However, Mr President's, belated request, in July i.e. less than a month after his assent to the 2018 budget, for permission from the National Assembly to alter the expenditure pattern of the already enacted 2018 fiscal plan, so that the N242bn, required for 2019 elections can be deducted, from the sum of N578bn, already appropriated, by NASS, for its members' constituency projects in 2018.
The begging question here, of course, is why Buhari endorsed the Appropriation Act in June, only to turn round, barely 3 weeks after, to contradict his endorsement, with a request for virement. Invariably, with the apparent, incessant discord between the Presidency and a National Assembly, ultimately, a probable compromise, would be for Buhari to submit a fresh supplementary Appropriation bill, separately, for the 2019 elections, rather than insist on a virement for N242bn.
Nonetheless such supplementary appropriation, plus the already appropriated N348bn for fuel subsidy this year, would, invariably increase the initial projected 2018 deficit beyond N1.9Tn to almost N2.5Tn, to definitely compound an oppressive debt service burden, which already gulps over 40% of aggregate revenue, annually.
Furthermore, INEC's seemingly bloated bill of N242bn, is also rather worrisome, as it is clearly the largest nominal election budget ever, especially when, population may have only increased marginally, since barely N93bn was the total election expenditure in 2015. Clearly, population increase alone, may not explain the huge spike in the 2019 election budget; furthermore the procurement of multiple-use basic hardware, for technology driven elections, with individual data capture, card readers and other modern electronic facilitators, were apparently fairly adequately provided for the 2015 elections.
Besides, there is still also, no available public disclosure of details of the disbursement of the N2.029Tn capital allocation for 2017; although, Finance Minister, Kemi Adeosun, reported that only N1.49Tn has so far, been spent, from last year's capital budget, there is no official confirmation as to what happened to the balance of N538bn!
Furthermore, there is also no official confirmation that the 'unspent' budget was carried over to supplement the 2018 budget; so where is the balance? It would be expected that, rather than compounding the subsisting N1.9Tn budget deficit, with additional loans, in order to presently fund the 2019 elections, surely, the unutilized balance of N538bn from 2017 Capital budget, could still be captured and appropriated as supplementary to the 2018 budget, without the need for more borrowing.
Besides, with barely 4 months to December 31st 2018, it is highly unlikely that the 2018 N2.87Tn allocation for Capital expenditure will be totally utilized; as usual, the unspent allocations, will be carried forward without due diligence, only to probably disappear, once a fresh Capital vote is approved for the incoming year.
Instructively, despite the reality that the present fiscal process, clearly challenges full implementation of Capital budgets, the funding of infrastructure however, with expensive government loans is clearly disturbing. Regrettably, this macabre budgeting process has so inebriated our fiscal plans, such that, very little can be identified, on ground, as product of the Trillions of Naira, allocated to elevate social infrastructure in recent years.
This regrettable self-serving pattern of funding infrastructure with, inappropriately high cost government borrowing, even when free funds could be garnered for the same purpose, is equally worrisome. Expectedly, adroit financial management would rustle feathers amongst the freeloaders, primarily, in the Banking sector, the National Assembly, the Federal Executive and possibly most MDAs, where the return of unspent budget is possibly a rarity. Nonetheless, this underlying reality of a loose fiscal process, is probably best captured in the application of the so called Government's Excess Crude Account. The noticeable practice is that the budget price benchmark for crude export, is always deliberately well underestimated. Consequently, the surplus revenue, from sales above the budget price, is often conscripted into a contraption called an "Excess Crude Account (ECA)".
Best practice financial management recommends, that fortuitous surplus revenue above budget benchmark should be applied to fund or reduce any deficit earlier projected in each year's fiscal plan. Regrettably, this is never the case, as government invariably, still proceeds, to borrow, regardless of the attendant, inappropriately high interest rates, in order to fund any budget deficit, earlier deliberately predicated on very conservative oil price benchmark. Consequently, significantly higher actual crude price and related revenue have, never stopped, Nigeria's Debt Management Office, from religiously borrowing, to fund annual deficits, even when the surplus' funds garnered from fortuitously higher crude price and output would have reduced or eliminated such borrowing.
Inexplicably, nonetheless, even after loans have been taken to fund these deliberately projected deficits, the 'surplus' funds consolidated from higher than budget benchmark oil price, is often shared amongst the tiers government, without any overt approval by the National Assembly as constitutionally required. Ultimately, CBN would also proceed to substitute the higher foreign revenue, with Naira allocations, at a pre-determined rate before allocation to government and its agencies. There is no gain saying that if revenue above budget expectation was used to fund these deficits earlier projected, obviously Nigeria's loan burden would recede; unfortunately, this has never been the case; sadly, nothing has changed in Budget 2018, as loans will still be consciously accumulated by government to fund the budget, even when oil prices, presently hover nearer $70/barrel, to provide surplus revenue above budget projections, in place of the projected shortfall related to the adoption of $45/barrel budget price for crude oil.