…Mama Boko Haram gives new hope
…says she's yet to renounce Christianity
…UK pledges her support to ensure safe release
By Sam Eyoboka
primary and secondary schools in several states of the country including Government Girls Science and Technical College (GGSTC), Dapchi, Yobe State after the annual promotion/end of session variety of events including literary and scientific exhibitions, drama, choreography and dances have proceeded on the long vacation in readiness for the new academic session.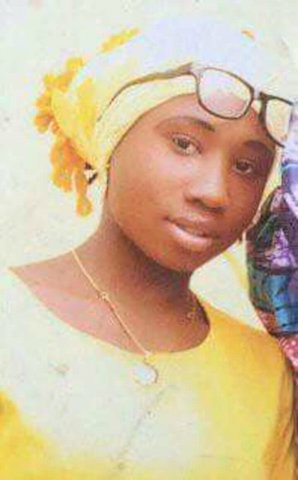 Recall that Government Girls Science and Technical College (GGSTC), Dapchi, Yobe State was where 110 innocent schoolgirls, aged between 11 and 19 years were abducted by Boko Haram terrorist group from their dormitories and transported in four trucks to an unknown destination on Monday, February 19, 2018.
The Federal Government immediately told a bewildered nation that it has deployed the Nigerian Air Force and other security agencies to search neighbouring nooks and crannies for the missing schoolgirls and ensure their speedy return.
Thirty one days after, the Islamist militant group, Boko Haram returned 105 girls in nine vehicles same way they took them away, raising several questions as all the returnees were clad in brand new attires with travelling bags.
According to the story, five of the 110 girls died on their way while one, Leah Sharibu, 15, was held behind because she refused to renounce her Christian faith. President Muhammadu Buhari immediately vowed not relent until the only schoolgirl from Dapchi community, who is still been held by Boko Haram terrorists is freed.
A month after that initial pledge, President Buhari while receiving the Archbishop of Canterbury, Justin Welby, in London reiterated his promise to free the schoolgirl from Dapchi still being held by insurgents, saying his government was handling her case quietly.
According to a statement by Special Adviser on Media and Publicity, Mr. Femi Adesina, Buhari said his administration was avoiding dealing with many fraudulent people who had been making "frivolous claims" on the matter.
"Making noise would not help. We are collecting as much intelligence as possible, working with the Red Cross and other international organizations.
"There are too many fraudulent people around; we won't deal with them. That was how we got the Dapchi girls back, and the Chibok girls," he added.
Responding the Archbishop of Canterbury, told the President "You have my best wishes on your recent decision. We are neutral as a church, but we will pray for you. Great states-men are those who run for the good of their country."
Its been 168 days now and Miss Leah Sharibu, who marked her 15th birthday in captivity, is still being held captive five months after release of her schoolmates.
The International Christian Concern, ICC, a non-partisan, charitable organ-ization focused on human rights, religious freedom and assisting the persecuted Christian Church around the world, learned that Leah Sharibu is still being held by the Islamic terrorist group Boko Haram even as a female activist, who has been a veritable  liaison that was used to make contacts with the Boko Haram, Barrister Aisha Wakil recently claimed that Leah Sharibu is alive and has not renounced her faith.
According to her, there is hope of her release as she was partnering with the International Committee of Red Cross to rescue Leah Sharibu to join her mates to continue her edu-cation. It has been four months since the release of her schoolmates.
Sadly, Leah Sharibu, the only Christian among the park, is still in the clutches of Boko Haram. At present, there are no known efforts by the President Buhari-led Nigerian government toward securing Leah's release, nor the release of the 105 Christian Chibok schoolgirls who have been held captive by Boko Haram since 2014.
ICC spoke with Leah's father, Nathan, who shared, "There is still no news about our daughter. Nobody has told us anything. Their school will soon proceed on vacation without a word from its authorities. We need help from whosoever to mount pressure on the Federal Government of Nigeria to do whatever it can to get our daughter released."
Leah's father, who is trying to maintain his family's life in northeastern Nigeria, said of Leah's mother, "She is feeling lonely and I don't want her to get too depress-ed." Now that Leah's mother, a school teacher, is on holidays he arranged for her and their only son to spend the period with him in his place of primary assignment in Adamawa State capital, Yola, while calling on Christians everywhere to contin-ue to pray for the family.
Not only has their 15-year-old daughter been in captivity for a total of five months since the abduction in Febru-ary, but they also had to send their son to a sch-ool that is further away because they fear for his safety. In the midst of these difficult choic-es, the family continues to live in a region that is vulnerable to attacks by Boko Haram. Just days ago, the terrorists struck a military base close to them, causing many casualties.
According to ICC, con-troversy surrounded the abduction of the Dapchi school-girls. "Some saw the Nigerian author-ities as complicit in the saga. Some believed that public funds were advanced to the insurgent group in order to secure the release of the girls, thereby arming the group to continue its murderous acts. Most wondered why the only Christian girl among them was not released if there was no religious, anti-Christian motivation," it argued.
Her freed classmates reported that it was because Leah refused Boko Haram's demand to renounce Christ and convert to Islam.
Nathan Johnson, ICC's Regional Manager, said, "With the build-up of political activities toward the 2019 elections, it is unclear if the release of Leah Sharibu and the remaining Chibok schoolgirls is a priority to the Buhari administration any longer.
"We, as the concerned international community, must continue to work on behalf of Leah and the other Chibok girls still in captivity. We must not let people forget the danger and suffering that these courageous young women are facing daily," he stated.
Meanwhile Aisha Wakil, popularly known as Mama Boko Haram, has given a new hope revealing that she is partnering with the International Committee of Red Cross to rescue Leah Sharibu from the clutches of Boko Haram. She maintained the Leah Sharibu has not renounced her Christian faith and that her NGO, Complete Care And Aid Foundation, in collaboration with the Red Cross will see to her release.
According to her: "I am really worried about Leah and her freedom from Boko Haram is very important to me. Leah did not renounce her religion, that I can assure you and we shall do everything with both the government and the international organisation to ensure she regain her freedom just like her colleagues that were reunited with her families." Meanwhile, after plenary on July 4, the House of Commons of the United Kingdom (UK) assured the Federal Government of its support in ensuring the safe release of Leah Sharibu.
The United Kingdom has vowed to the Federal Government that it will support it in its effort to actualise the safe recovery and return of Leah Sharibu, the only Christian, held back for allegedly refusing to renounce her faith.