Lagos – After 62 spectacular matches spread over a period of 29 days, across 11 cities in Russia, Croatia and France have emerged as the two contenders for the FIFA trophy in the final match of the World Cup 2018 .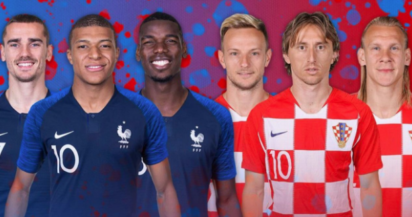 Incidentally, Croatia and France will be renewing their rivalry on a higher level this time, after the two teams had slugged it out in the semi-finals of the France 1998; which Les Bleus won after a keenly contested encounter.
While France will strive for a repeat of their 1998 feat, the current crop of Vatreni are aiming to not only emulate the 1998 "Golden Generation'' of Croatian greats, but to go on to win the World Cup.
Coach Didier Deschamps will no doubt want to have his name in the records book, as the third player to win the World Cup as a player and a coach, in line with Mario Zagalo of Brazil and Franz Beckenbauer of Germany.
After a shaky start against the Socceroos of Australia, Les Bleus gradually hit their strides in subsequent matches, much to the admiration of their coach.
Deschamps has continued to heap praises on his players, especially after his team defeated Belgium in the keenly contested semi-finals match earlier in the week.
"I'm very proud of them, I'm very proud of their mentality as well because I know it's not just that you are playing at a high level that you are going to score goals.
"But with our state of mind we can climb mountains and that's what we've done so far,'' he said.
The News Agency of Nigeria (NAN) reports that the two national teams have previously played each other five times. France has won three of those matches, while the other two resulted in a draw.
The first game was played on July 8, 1998 during the World Cup semi-finals. Les Bleus won 2-1 to advance to the final, which they won over Brazil on home soil.
France and Croatia last played each other in March 2011 during an international friendly exhibition, but it resulted in a 0-0 draw.
Head-to-head results show that: July 8, 1998: France 2, Croatia 1 at Stade de France (Paris).
November 13, 1999: France 3, Croatia 0 at Stade de France (Paris).
May 28, 2000: France 2, Croatia 0 at Maksimir (Zagreb, Croatia).
June 17, 2004: France 2, Croatia 2 at Estadio Dr. Magalhaes Pessoa (Leiria, Portugal).
March 29, 2011: France 0, Croatia 0 at Stade de France (Paris).
To get to the finals, Croatia had to put up with a resolute challenge from the Three Lions of England, but goals from Ivan Perisic and Mario Mandzukic was all they needed to win the match in extra time.
In Luka Modric and Ivan Rakitic they have the midfield engines of both Real Madrid and Barcelona.
While the scorer of their winner against the Three Lions, Mario Mandzukic, won the Champions League with Bayern Munich and now plays for Juventus.
With France standing between the Croats and the prestigious FIFA trophy, the battle tested Vatreni will certainly fancy their chances of the seemingly uphill task of lifting the World Cup at the expense of France.
Coach Zlatko Dalic sees his team's ascent as one that is based on hard work and nothing else but a miraculous feat.
"This is maybe one of the greatest sporting achievements of any Croatians. This is a global success and I'm very glad it's happened under my management.
"We've definitely written ourselves into history, given the conditions and infrastructure back home, we are a miracle," he added.
While Les Bleus battled it out toe-to-toe with Le Diable Rouge of Belgium and eventually won the keenly contested match, through a Samuel Umtiti's headed goal in the second half of the match between neighbours.
England and Belgium, would have to continue their Group G rivalry once more, in the loser's final on July 14 at the Saint Petersburg Stadium for the third position in the 2018 World Cup.
In spite of the fact that the third place is erroneously perceived as one of least value, Coach Roberto Martinez of Belgium and Gareth Southgate of England still intend to give it their best shot.
Since the match will be used to do the final rankings for the 2018 World Cup, the two sets of players would have to strive for the third position and the highly coveted bronze medal at stake.
NAN reports that this is the first World Cup held in Eastern Europe, and the eleventh time that it has been held in Europe.
For the first time the tournament takes place on two continents – Europe and Asia. All but two of the stadium venues are in European Russia.
At an estimated cost of over 14.2 billion dollars, it is the most expensive World Cup ever. This is also the first World Cup to use video assistant referees (VARs).
Currently there have been 161 goals scored in 62 matches, for an average of 2.6 goals per match.
Eleven own goals have been scored during the tournament, breaking the record of six set in 1998.
On hindsight, the 2018 World Cup has without any iota of a doubt lived up to the expectations of all the stakeholders, hopefully, the 63rd and 64th matches will surely live up to the billing by serving us the best of football. (NAN)