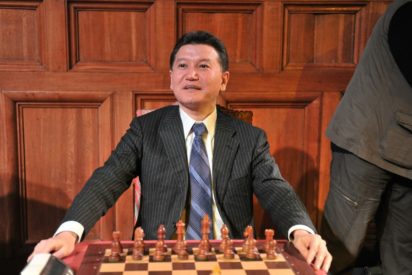 Kirsan Ilyumzhinov
Kirsan Ilyumzhinov
The World Chess Federation on Friday announced the suspension of its controversial Russian president Kirsan Ilyumzhinov over ethics breaches but he vowed to fight the decision.
The world chess body (FIDE) said in a statement that its ethics commission had found Ilyumzhinov "guilty of the violation of the FIDE Code of Ethics" and suspended him until January 2019.
Ilyumzhinov, the former leader of Russia's Buddhist Kalmykia region who famously claims to have encountered aliens, had led FIDE since 1995 but has been on a US sanctions list since 2015.
He vowed to appeal against his suspension, telling REN TV channel that some members of FIDE were "dancing to the tune of the Americans."
"I'm not giving up. I'm not resigning. I will fight," he said, adding that he will appeal to the Court of Arbitration for Sport or CAS, which is based in Lausanne.
"I consider this to be illegal. This is a purely political decision," he said.
His presidency has caused difficulties for the federation since he was placed on a US sanctions list in 2015 for alleged financial dealings with the Syrian government and the Islamic State group.
After this, FIDE distanced Ilyumzhinov from its financial operations but said in April that the Swiss bank UBS was closing its accounts over the sanctions against Ilyumzhinov.
FIDE said in a statement that Ilyumzhinov "acted in a manner incompatible with his duty to put the interests of FIDE above his own personal interests."
The statement said he was suspended for "refusing to resign following the closure of FIDE's bank accounts, and in so doing created confusion and instability within FIDE."
It alleged that he "inflicted serious reputational, operational and financial harm upon FIDE and brought FIDE and the game of chess into disrepute."
FIDE is due to hold new elections for a president in October.
Ilyumzhinov announced last month that he would not stand, instead supporting the candidacy of former Russian deputy prime minister Arkady Dvorkovich.
Russia's Kommersant business daily suggested that FIDE wanted to ensure that Ilyumzhinov could not change his mind and stand again.
"It looks like the opponents of the FIDE chief decided to be on the safe side," it wrote.
Ilyumzhinov headed Kalmykia for 17 years and in 1997 claimed to have been kidnapped by aliens wearing yellow spacesuits.
He has been harshly criticised by Russian former world champions Anatoly Karpov and Garry Kasparov, who ran against him in the 2010 and 2014 FIDE elections, respectively.
He has visited Russian-backed Syrian President Bashar al-Assad in Damascus during the war in the country.
AFP