…As Benue youths take over Govt House
…Stop his Abuja trip for discussions with APC leaders
…PDP welcomes Ortom, urges others to return 'home'
Makurdi—After several weeks of speculations, Governor Samuel Ortom of Benue State has finally defected to Peoples Democratic Party, PDP, after formally tendering a resignation letter to the ward chairman of All Progressives Congress, APC, in Guma Local Government Area.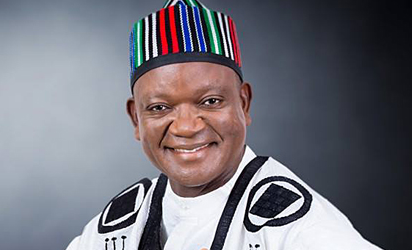 The governor, who made the declaration, yesterday, in Makurdi when he hosted 13 local government council chairmen and 276 elected councillors, said he arrived at the decision after consulting widely with relevant stakeholders and the elected representatives of the people.
Ortom said: "I have consulted widely with our elders, our youths and all the elected representatives of the people of Benue State, including council chairmen and councillors.
"They have unanimously endorsed that my stay in the APC has expired and I should look for another platform and that they would all follow me.
"I recall that I had issues with the leader of the APC in Benue State and while the national leadership of the party was trying to resolve it, the party in the state embarked on aggressive campaign of calumny against me.
"It is on that note that I tender my resignation letter to my ward chairman of APC, who also promised to follow me wherever I want to go, while 10 of the 17 APC members of Benue State House of Assembly have also indicated that they are moving with me to any platform I choose.
"Let me, therefore, announce to you that I have formally decided to join the Peoples Democratic Party, PDP, from today.''
The governor said he was moving to the PDP where he had a family and in a party he contributed to build.
Stakeholders pledge support
Earlier, Chairman of Otukpo Local Government Area, Mr. George Ali, assured the governor of  support of people of the area in whatever decision he took, adding that the people were in firm support of his second term bid.
On his part, Benue State chairman of Association of Local Governments of Nigeria, ALGON, Anthony Shawom, said the  10 council chairmen, who filed a motion in court to stop the dissolution of the council by the governor were eager to dump the matter and join him in his new platform.
Benue youths stop his Abuja trip
Meanwhile, a coalition of Benue youths, comprising over 40 groups, had earlier waylaid the governor at the entrance of Government House, stopping him from travelling to Abuja to attend a scheduled meeting with APC national leadership.
The youths who came in their thousands, blocked the entrance of the seat of power, sang native war songs, while many bore placards with inscriptions such as "Ortom, don't go back to APC", "We don't have land to donate for ranching", "APC is Miyetti party", "Our farms are not for cows", "You must leave APC," Ortom is our party" and "2019: On Ortom we stand."
Spokesmen of youths, Comrade Terrence Kuanum, and Pastor Dave Ogbole, advised the governor not to make the trip for further discussions with the APC leadership on his membership of the party but to rather look for an alternative platform.
"We are openly telling you this because if you fail to heed our advice and attend the meeting, we will ensure that you are voted out in 2019.
"We, the Benue youths, are not prepared to stay with you in APC, we are not prepared to remain in a party where its leaders would prefer to look the other way while armed herdsmen killed our children, pregnant women, the aged and our defenceless people, that is why we are saying no to APC, a party that allowed bloodbath in Benue.
"The saying goes that the voice of the people is the voice of God, Governor Ortom, we the Benue youths say we do not want APC in Benue, and you must leave the party now,'' they said.
APC flag removed from gov's official vehicle
To underscore their anger, the youths ordered that the APC flag on the governor's official car be removed immediately and his driver complied.
Governor Ortom, who was already on his way to Abuja for the meeting with the APC leaders, pleaded with the youths to allow him attend the meeting, assuring that their interest would be protected.
The youths, however, refused, insisting that the governor must return to his residence or be prepared to kill all youths who took over the roads leading to Government House.
He eventually turned back with his entourage.
PDP welcomes Ortom
Meanwhile, PDP has welcomed the return of Gov. Ortom to its fold and urged all its former members still in APC to return 'home' without further delay.
The party in a statement by its National Publicity Secretary, Kola Ologbondiyan, yesterday, saluted the courage of the governor, adding that dumping APC for PDP was the right thing to do.
He said: "The return of the governor to PDP confirms the fact that President Muhammadu Buhari-led administration and the APC do not have the welfare of Nigerians at heart, as they have continually offer flimsy excuses over the mindless killings that have caused untold sorrow across the country, particularly in Benue State."