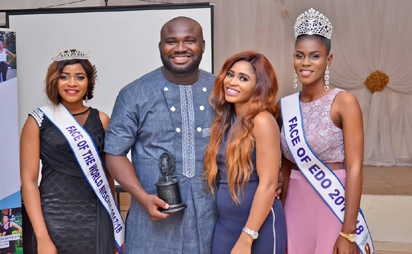 By Ayo Onikoyi
Prince Eerik Odigie, chairman of Divine Smile Foundation International, the organizers of Face of The World Nigeria Beauty Pageant and Face of Edo Beauty Pageant who emerged as the Best Pageant Organizer of the Year 2018 at the Best of Edo Awards 2018 recently in Benin, Edo State, has stated what it takes to organise a beauty pageant in Nigeria.
According to him, "It takes passion, doggedness and goodwill before people can believe you. One of the things that sell our brand is that we call a spade a spade, we don't compromise on the prizes that will be given to queens. So many queens from our organization have won scholarships, cars, a trip abroad and entrepreneur tips. The record speaks volumes. In organizing a beauty pageant your integrity is at stake, if not, people will never take you seriously. And of course, you must have sponsorship. But when we started we had no sponsors but we had goodwill. That's why I'm using this medium to thank our sponsors and partners for giving us their shoulders to climb upon,"
Speaking on winning the Best Pageant Organizer of the Year, Prince Odigie reiterated his love for the girl child and reaffirmed his commitment to organising quality pageants and delivering on their promises.
"I can tell you free of charge that we just secured visas   for all our queens to travel abroad for 3 weeks, all expenses paid. We are also going to organize South South Youth Summit in August where we will enlighten the youths and parents on the purpose and benefits of paying taxes and of course the 13th and 5th editions of Face of Edo beauty pageant and Face of the World Nigeria beauty pageant respectively. Top notch artistes will be in attendance with A-list comedian.
I feel very elated about this award because I was not expecting it. I'm just doing my job and I never knew people were watching. I love to make champions out of the girl child and the less privileged in our society. Like our slogan at the Divine Smile Foundation International, we put permanent smiles on anybody who crosses our path. I'm  grateful to God, my family, sponsors and my staff who have been there for us and supporting our pageants," he said.