For Steve McClaren, England's World Cup semi-final against Croatia brings back painful memories. It was after a match between the two teams more than a decade ago that he was labelled the "Wally with the Brolly".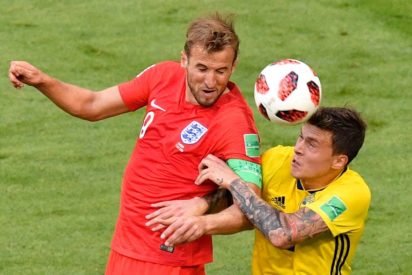 In the pouring rain of a November night at Wembley, England slipped to a 3-2 defeat against a Croatian side who had already secured their place in Austria and Switzerland for Euro 2008, failing to qualify themselves.
The image of McClaren sheltering from the elements under an umbrella came to define the latest in England's litany of disappointments on the international stage and is one he has failed to shirk in a journeyman coaching career since.
Luka Modric and Ivan Rakitic were part of the winning side and have gone on to form the bedrock of a talented midfield that has allowed a country with a population of just over four million to punch above their weight for a decade.
In sharp contrast, not a single member of the England squad that night are in Russia after Gareth Southgate put his faith in youth by bringing the third-youngest squad to the tournament.
"There was this FA umbrella lying around so I thought, 'I'll use that, support the FA and keep myself dry!' McClaren told FourFourTwo magazine earlier this year.
"After thinking I'd get killed for wearing a beanie (hat), instead I got killed for holding a brolly."
"Later I went to Holland and at Heracles there is no dugout — just benches with no cover. We had around eight members of staff at Twente and each of them used an umbrella.
"As I came out the team manager asked: 'Trainer! Would you like an umbrella?' I said: 'No, I'll end up looking like a drowned rat on the substitutes' bench, but I will not have an umbrella'."
– Dark days for England –
The Croatia defeat was just one of a number of crushing disappointments for a so-called "golden generation" including David Beckham, Steven Gerrard and Frank Lampard who never made it beyond the quarter-finals of a major tournament.
Without the same hype or fanfare, England's current crop have managed to capture the hearts of a nation in a way that star-studded squad never did.
Where once the England manager was a figure of fun, he is now a style icon — Southgate's matchday attire has seen waistcoat sales rocket in a country gripped by World Cup fever.
Marks and Spencer, official tailors to the team, declared Saturday, when England comfortably saw off Sweden 2-0 in the quarter-finals, as #NationalWaistcoatDay in honour of the 47-year-old.
The manager's big decisions have also paid off. He has switched successfully to a back three and his backing of Jordan Pickford despite the Everton goalkeeper's inexperience has paid dividends.
Pickford made three big saves against Sweden after helping win a first-ever World Cup penalty shootout against Colombia in the last 16.
By contrast, when McClaren threw Scott Carson in for his competitive international debut against Croatia, an early blunder saw Niko Kranjcar's long-range effort slip through his fingers and Carson never played a competitive game again for England.
Yet what England lack in experience, they now make up for in a fearlessness that is completely at odds with the tension on and off the field that has blighted so many previous campaigns.
"We're concentrating on us, what's going on now, not what happened in the past," said full-back Ashley Young. "We look forward to the future. We're creating our own stories."
Subscribe for latest Videos