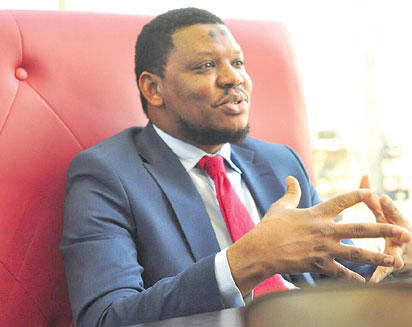 By CHARLES KUMOLU
Founder of IPI Solutions, Adamu Garba, tells how desire, faith, and persistence propelled him to great heights. He achieved that by shutting his ears to discouragement and focusing on long-term goals.
In a famous American drama, Pursuit of Happiness, Will Smith said: "Don't ever let someone tell you that you can't do something. Not even me. You got a dream, you gotta protect it. You want something, go get it..''
These words from the biographical drama, largely resonate in Adamu Garba, founder of renowned ICT firm, IPI Solutions. He had a dream and confronted cultural and social stereotypes to realise it.
During an earlier encounter with Vanguard,   Garba, did not leave any doubt that he regarded his life as a template.
He saw it as a conversation that was made worthy by his restless desire not to walk in anyone's shadow. The fears of failure in any endeavour meant nothing to him so long as the results will be products of his decision.
It was  this feeling and other factors that planted in him, the aspiration of attaining the peak anyone can attain in business and leadership..
At the  Corporate Headquarters of his firm in Lagos, Adamu dazzled this writer with the story of where he is coming from and where he is going to, especially the ambition of leading this country.
Despite being an IT guru, whose endeavours have tremendously yielded wealth, one doubted the prospects of such a dream considering many societal odds.
But one thing that can't be taken away from him is optimism, which he expressed while telling this paper that he has always achieved all he set out to do in life.
In this encounter, the Adamawa-born entrepreneur explained why his transition from an itinerary islamic student, taxi driver, expelled university student, to a successful founder of a multi-million naira empire, is a success-model for everyone.
He looked at his journey from obscurity in Adamawa State, the fortune he found in Lagos and concluded that every good dream is realisable.
Garba set his sights beyond challenges by not allowing anything to hold him back. A  burning ambition that fires the drive inside his heart, also aided his ascension on the ladder of success.
The same attitude is driving his ambition to lead Nigeria.
The son of an Islamic cleric, who shut his ears to discouragements, is currently pushing forward his ideas about leadership to the amazement of many, who often ask: who is Adamu Garba? Is he a scion of an aristocrat? What is his background?
This is his story as narrated to Vanguard.
My mother protested:
"My father was an Islamic scholar father.   My mother, who was a petty trader, is also an Islamic scholar. During my formative years there was so much emphasis on children going to Almajiri Islamic school. And my farther toed the line by insisting that all his male children attended an Almajiri school.
I was the second son.   My mother protested against it, saying that it could never happen. She said I had to attend a conventional school. But my father insisted that I must go to the Almajiri School. They eventually had an agreement that I should attend the Almajiri School and proceed to a conventional school when I am eight. I was at the Almajiri School from the age of four to eight.
I did everything an Almajiri child did. We will go to the bush to pick aluminum which we sold to get money. At a point, a conventional primary school was established in my community. The pupils sat under a tree because the school didn't have classrooms. It was an opportunity for my mother to say that I should proceed to the school. I attended two different schools because I was moved to another primary school when I was in primary three. They were all public primary schools.
After my primary education,
"When I left primary school,  I proceeded to Kano State University, Wudil, where I was admitted to study Electrical Engineering. When I was in 300 level, the students recognised the qualities in me and wanted me in students' leadership.
I was preaching one nation because there is a certain perception about one Nigeria over there. I am a Muslim and son of a religious scholar but I don't see any difference between any other person and myself. My one nation slogan became a very serious issue because the authorities were not comfortable with it. At that time we used to go to Bayero University Kano, BUK, for practicals. When I went to BUK for one of my practicals, the authorities in my school said I should not come back. I left school for my home where I sat down to plan the next step for my life.
A talented person
"I have always been a talented person, who is always curious. Even at the University, I was always inquisitive about the things they taught us during practical. I have a habit of challenging myself beyond what the lecturers were teaching us.   Even some of the lecturers were not even too vast in what they were teaching. As a lover of technology, I decided to move to NIIT  to fully develop  my potentialities. When I found myself home, my father wanted me to continue at Federal University of Technology,FUTH, Minna but I disagreed, saying that I wanted to study computer.
Founding  my firm at 26
At NIIT   I did a nine-month course.  At 24 I left home for Lagos. When I came here, I got a job in Apapa where I was earning N10,000 monthly. I began to practice what I was doing and found out that it was really working. I got another job with Torrent Technology. I got another job with an oil company in Warri where I worked for nine months and resigned. I came back to Lagos because I know Microsoft Solutions very well and joined another company but I resigned after six months to set up my firm at 26. It was challenging for me. When I resigned I had just N52,000  in my account but I told myself that I will make it  within two years.
At that time, I trekked from Surulere to 1004 Estate to do my work but I was not bothered because it only energised me and made me focused on my goal. My family was not happy that I did not follow their advice to go to FUTH Minna.
I had to remove my sim card and break it to ensure that they stopped bothering me. I knew I was on the right path. For nine months they could not reach me because I destroyed my sim card. I shut my ears to anything and it was a push for me. The result of that is what my company has become today.
Achieving results
I am very proud of our exclusive focus on Microsoft Solutions. I don't think we would have developed and achieved the competencies and capacities we have achieved if we split our focus between other partnerships with many vendors. We would have made more money but not enough competencies and capabilities we build over this period.
Our ability to connect customers demand correctly with Microsoft solutions is giving me some sense of fulfillment that we are doing what we know best and are passionate about. And that is what makes me proud of every single member of this company.   Two things are needed to lead a country and they include wisdom and experience from those who have led. If you checked the people that defined the world order, you would have discovered that they did that when they were young.
Roosevelt was young, Churchill was 29 years old while Bismarck was 26 years old. They prosecuted the first and Second World Wars and even created the Bretton Woods Institutions. Henry Kissinger joined the Foreign service at 22 and did so many things including unlocking the Chinese to the world. If you go back to the history of this country, you will discover that all the people who are leading us in this country were leaders then. They had the energy, ideas, and capacity to lead at that time, but they lack it now. I don't think one needs to be old to be a leader.The achievements of these people while in their youth, convince me that I can become the President of this country.   I respect the present crop of leaders we have and I value them. But that does not mean that I should hesitate in telling them that the future of this country belongs to the youths. We are telling them to quietly retire and allow the youths to take their rightful place in the 21st century. This country has to work for everyone by being an inclusive environment.
Read full interview on www.vanguardngr.com
Everybody must contribute his quota when I become the President
On leadership
Many people including my wife have asked why I am going into politics when God has blessed me. But sometimes I feel guilty to watch things go wrong and not doing anything. We need to do something by coming to get people to talk about how to position this country. The passion to do that is there. It is important for us to chart a better way for our nation. In leadership, age is not a barrier, wisdom is key. I have an excellent manifesto on how we can improve the lives of ordinary Nigerians by deliberate and committed effort to transit from poverty.
Renaissance project
I have a  manifesto that will transform us from the current supplier nation to a real free market economy.
Our manifesto will change the entire education system to skill-based knowledge and training systems; a manifesto that will define the soul of a true Nigerian identity. A manifesto that will unleash the power of 180 million Nigerians to the world, to create impossible innovations and produce very successful talent pool as is obtainable in advanced countries. I think Nigerians should start to prepare for a new Nigerian dream by our great Nigerian renaissance project where each citizen will transparently measure our government in four key metrics namely: Better education and training for our children; better standard healthcare facilities for all Nigerians; better market to transact in goods and services and more money in their pocket as a result of improved trade.