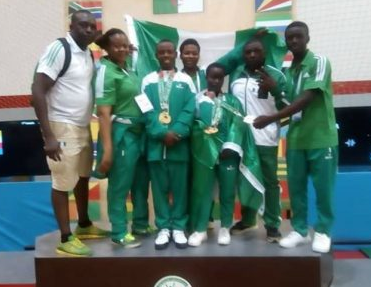 Team Nigeria weightlifter receiving medals
Team Nigeria to the third edition of the African Youth Games (AYG) which ended in Algiers, Algeria on Saturday finished with a total number of 105 medals won from 19 sports.

The team won 29 gold, 33 silver and 43 bronze medals, with weightlifting giving it the richest haul of a total of 18, comprising 12 gold, five silver and one bronze medals.
Wrestling gave Nigeria more in terms of quantity, even though it was in fourth place in terms of quality, winning 19 medals made up of three gold, 10 silver and six bronze.
Athletics was second behind weightlifting, and ahead of canoe/kayak in third place, having given Team Nigeria five gold, three silver and five bronze.
Nigeria won four gold, three silver and one bronze from canoe/kayak, while badminton gave it two gold, two silver and seven bronze, and boxing two gold, two silver and two bronze.
The team however failed to win any medal from hockey, beach volleyball, tennis and swimming at the Games which was held from July 18 to July 28.
Attached is the full table of medals won from each sport by Team Nigeria, as well as the athletes who won each medal:
SN Sports Sum of Gold Sum of Silver Sum of Bronze Total Number of Medals
1 Athletics 5 3 5 13
2 Badminton 2 2 7 11
3 Basketball 0 1 1 2
4 Boxing 2 2 2 6
5 Canoe/Kayak 4 3 1 8
6 Cycling 0 2 0 2
7 Football 0 1 0 1
8 Gymnastics 0 0 2 2
9 Handball 0 0 1 1
10 Judo 0 2 3 5
11 Karate 0 0 2 2
12 Kungfu 0 1 5 6
13 Rowing 0 0 1 1
14 Shooting 0 0 1 1
15 Table Tennis 0 1 1 2
16 Taekwondo 0 0 4 4
17 Volleyball 1 0 0 1
18 Weightlifting 12 5 1 18
19 Wrestling 3 10 6 19
Grand Total 29 33 43 105