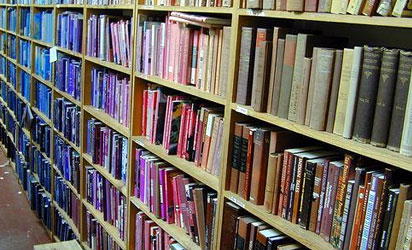 A typical library
A scientist, Dr Emmanuel Unuabonah, on Monday called on the Federal Government to implement research findings in an effort to promote research and innovation.
Unuabonah, an Associate Professor in the Department of Chemical Sciences, Redeemer's University, Ede, Osun, made the call in an interview with  Newsmen  in Lagos.
According to him, there are research works of great importance lying idle on the shelves due to lack of funds to push them out.
The scientist told Newsmen that, if well supported, research would help Nigeria to use local materials to tackle its challenges.
Unuabonah, a recipient of the Nigeria Academy of Science 2017 Gold Medal Prize for physical sciences, said that funding constraint had been limiting the growth of research and innovation in Nigeria.
"If adequate recognition is given to research and innovation, it will go a long way in enabling some works which will be of immense benefits to the society.
"Lack of funds is a contributing factor to non-research output in the country due to the fact that many researches are financed from the pockets of scientists," he said.
The scientist told Newsmen that his invention with carica papaya (pawpaw) seeds and kaolinite clay for the purification and removal of pathogens from water and wastewater, which earned him the award, was to address ensure good drinking water.
"This is achieved through a developed new composite material from carica papaya seeds and kaolinite clay which are abundant in Nigeria.
"These materials can be got from many states in the country and at a very low cost.
"We should look inwards; when we do, we will find out that solutions to many of our problems are within us.
"They can solve our problems cheaply rather than importing solutions that are expensive," he said.
According to the researcher, removal of pathogens from water are essential because they are deadly.
"They are the causes of waterborne diseases such as cholera and typhoid fever, and kills especially children.''
Unuabonah said that when functionalised, clay could be used to remove resistant pathogens responsible for multi-drug resistance in human beings.
The scientist said that his invention could go a long way to address the problem in the Niger Delta water.
He said that demands by a community hindered his team from penetrating the region with the invention.
Unuabonah said that enabling environment would facilitate research and enable its impact to be felt more. (NAN)