By Rev Fr. John Damian Adizie
2018 is a special year for young people. The Holy Father, Pope Francis, has invoked an extraordinary synod in October 2018 to discuss Young People, Faith and vocational Discernment.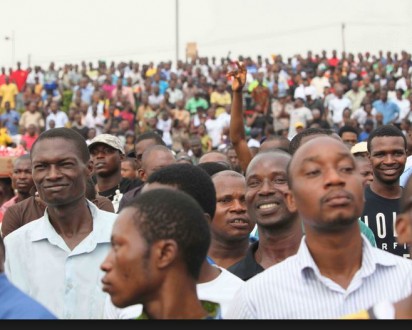 According to him, "The Church wants again to sta-te her desire to encounter, accompany and care for every young person, with-out exception. The Church cannot, nor does she wish to, abandon them to the isolation and exclusion to which the world exposes them." For the Holy Father, every young person must be carried along!
Interestedly, the Pope started by defining his idea of youths. In most parts of the world people who are old enough to ha-ve grandchildren are still claiming to be youths.
Those who are due for re-tirement are falsifying the-ir age in order to retain their jobs whereas the young people, especially graduates, are roaming about without job. Solut-ion to unemployment re-mains a mirage until the elderly ones are ready to retire and handover to the youths and then maintain their rightful position as senior citizens.
With this, the Holy Father decided to put an age bracket to his idea of youths. "The word "youth" refers to persons who are rough-ly 16 to 29 years old… In any case, it is good to rem-ember that the term "youth", in addition to re-ferring to per-sons, is a sta-ge of life that each gener-ation understands in an unequal, original manner." Having made this clarifi-cation, the Holy Father highlights some of the cur-rent challenges facing the youths:
"In many parts of the world, young people are experiencing particular hardships which pose di-fficulties for them in mak-ing real choices in life, be-cause they have not even the minimal possibility to exercise freedom. This si-tuation includes young people experiencing pov-erty and exclusion; those who grow up without par-ents or family, or are una-ble to go to school; child-ren and young kids who live on the street in many suburbs, unemployed, displaced and migrants; victims of exploitation, trafficking and slavery; children forcefully recruit-ed in criminal gangs or as guerilla fighters; forced to marry against their will.
Oftentimes female child-ren, little girls and young women face even greater difficulties than their male peers."
The upcoming synod is meant to address some of these existential issues facing the young people. As the universal ecclesia advocates for practical pastoral care for the youths, the Church in Nigeria should not be indifferent to the needs of the youths. I appeal to the Shepherds and Pastors in Africa to join the Holy Father in this noble campaign for the practical pastoral care of the youths.
Thus, building the youths is building the church and even the society at large!